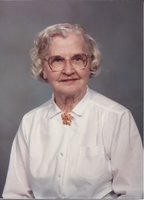 Martha G. DeVonis
Rochester: May 21, 1916-April 6, 2017. After one hundred years of a life fully-lived, our quirky, beloved Aunt Martha died peacefully under the loving care of the Hastings #1 staff at St. John's Home, and Life- time Care Hospice in Rochester, New York. Ms. DeVonis was predeceased by her parents, John DeVonis and Mary Libutis DeVonis, and seven older siblings: Alexander, Martin, Ann, Mary (Miller), William, Veronica (Konezny) and Andrew, and other family. She is survived by a legion of nieces and nephews, their children and grandchildren, and good friends. Martha was a graduate of St. Andrew's Grammar School and Benjamin Franklin High School. Her proudest accomplishment was her graduation from Nazareth College with an art major at the age of sixty-nine. She continued to sculpt, paint and sketch well into her nine- ties. She worked as a secretary for the Rochester School Board and later, Monroe Community College. Ms. DeVonis was a fervent Catholic parishioner and choir member at Our Lady of Perpetual Help Church who visited the sick, attended the funerals and practiced her strong faith with humility.
Martha loved the outdoors and could be found walking the pier at Charlotte on good days and bad, after treating herself to a red hotdog with mustard at one of the lakeside stands. She loved gardening, especially tomatoes; plants, especially violets; and animals, especially cats and giraffes. She was a talented bowler who once scored a 299 game and was gifted that last, stubborn pin which she displayed proudly. Ever- present, always late, outspoken yet kind, stubborn yet curious, frugal to a fault but generous of heart, Martha made sure every single one of us received a little gift for our birthdays and holidays. We always wished for her legendary shortbread. May the Lord bless and keep our dear, unforgettable aunt.
Saldziu sapnu.
A memorial service to celebrate the life of Martha DeVonis will be held on Wednesday, April 12, 2017 at 1:30 P.M. in The Chapel of Christ Our Light Mausoleum at Holy Sepulchre Cemetery (west side) on Lake Avenue in Rochester, NY. Burial will follow. Those wishing may donate in her honor to The Sisters of Saint Joseph, 150 French Road, Rochester, NY 14618.