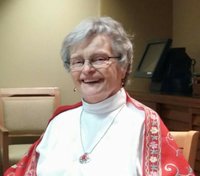 Janet Elaine Gustafson
Rochester. Gustafson, Janet. December 22, 2017. Jan was born June 13, 1933 to Frederic and Flora Brenke in Chicago, Illinois.
She grew up and attended public schools in Chicago. She received her Nursing degree from Wesley School of Nursing in Chicago. She met Stanley Gustafson late in 1957 and they were married in May, 1958. They relocated to New York when Stanley got a job in New York City. They lived in Bronxville for a few years where she worked in Lawrence Hospital, conveniently located across the street from their apartment. Daughter Gail arrived in 1962 and daughter Sharon arrived in 1963. Deciding they needed more space, they purchased a house in Hastings-on-Hudson in 1965. As she had two small children, she became a stay at home mom but was quite active in village activities, including the Hastings Creative Arts Council, the League of Women Voters, volunteering at the polls and the First Reformed Church.
The family moved to Melbourne, Australia for several years in the early 70s when Stanley had a job opportunity. Returning to Hastings in 1974, she resumed her nursing career, first at Phelps Memorial Hospital and then at a small doctor's office in Dobbs Ferry where she remained for about 20 years. Over the course of her career she moved from direct patient care to administration and management. Never one to shy away from a challenge, she decided to return to school in her late 60s to get a BA in Business from Mercy College. After retiring, she saw a need and started her own business assisting clients with the complicated system of insurance billing reimbursement.
Her husband Stanley passed away in 1999. Jan decided to remain in Hastings for another decade, enjoying her new status as a grandmother and continuing her involvement in the local community, including continuing her active involvement with the First Reformed Church as Treasurer and Choir member and volunteering at the local Historical Society.
She decided in 2013 to sell the house in Hastings and move to Rochester, New York to be closer to her daughter Gail. Settling into a new community at The Summit at Brighton, she quickly made new friends and connections, enjoying a full social life. In addition to being an active resident at The Summit, including being Treasurer of the Resident Council, she volunteered at the Brighton Historical Society and as an election poll official.
Particular interests and hobbies included international jet setting, collecting inkwells, gardening, genealogy, reading, playing board game and cards, baking lots of Christmas cookies (even appearing on the local news sharing one of her favorite recipes) but her favorite thing was spending time with her daughters, Gail and Sharon and her grandchildren, Kate and Emily.
Following a short illness, Jan passed away in the presence of her daughters at Rochester General Hospital on December 22, 2017. Her warm personality, kind heart, sense of inclusiveness, inquisitiveness, sense of humor and especially her cookies will be greatly missed.
She is survived by her daughters, Gail and Sharon, son-in-law Glenn and grandchildren Kate and Emily as well as her sister Lois Brown, nieces Debra Brown, Linda Haman (Greg and Brian), and Sally Brown. Also, a brother-in-law and many nieces and nephews in Sweden on her late husband's side.
There will be a memorial gathering on Friday, December 29, 2017 from 3-4:30pm at The Summit at Brighton, 2000 Summit Circle Drive in Rochester, New York. A further service will be held to inter her ashes in the Memorial Garden at the First Reformed Church in Hastings-on-Hudson at a date to be determined in the summer of 2018. The date and time of this service will be published in the Rivertowns Enterprise once known.
In lieu of flowers, donations may be made to: The Hastings Historical Society, 407 Broadway, Hastings-on-Hudson, New York 10706.