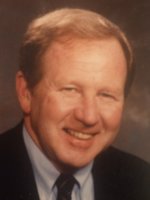 Terry E. Masterson
Masterson, Terry E.
Irondequoit: With profound sadness the family of Terry Masterson announces his passing Monday, January 29, 2018, age 84. He is predeceased by his daughter and son-in-law, Mary Beth and Chris Manolis his brother, Frederic K. Masterson. Terry is survived by his loving wife of 58 years, Janet; son, Jeffrey; his beloved granddaughters, Verena, Molly, and Elsie Manolis and their guardians, Tim and Jennifer Strom and their three children; his sister Linda (Bob) Cappel; sister-in-law, Fran Masterson, niece, Laura (Paul) Starowicz and their son Ryan, niece, Julie Masterson, also survived by many cousins, friends, co-workers and support from Janet Pawlik, Lydia and Karen Elliott and Bernie and Nancy Williams. Terry touched many lives and will be missed.
Contributions may be made to the education fund for Verena, Molly and Elise Manolis, c/o Jennifer Strom, 32 Arcadia Place, Cincinnati, OH 45208 or Breast Cancer.
Services will be held privately.