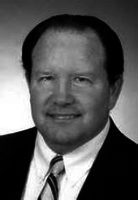 Joseph Montieth ""Monty"" Estes
J. Montieth (Monty) Estes, III
J. Montieth (Monty) Estes was born in Columbia, Missouri and grew up in Niagara Falls, NY. He received his B.Ch.E. and M.S.Ch.E. from Cornell University and his J.D. from Harvard University, and lived the remainder of his life in the Rochester area.
Monty loved to assist entrepreneurs to start companies and to realize their dreams of developing and deploying their inventions and technologies. He had over forty years' experience as an attorney developing over 30 emerging technology companies that spawned from top universities in New York State. He served as legal counsel in private practice and in various executive and board positions in prominent public and private technology companies. He was the founder and member of the board of directors of the Upstate Venture Association of New York (UVANY), and a founder and board member of High Tech Business Council, Smart Start Venture Forum, and Upstate New York Venture Forum. Additionally, he served on numerous advisory boards related to venture capital initiatives in Upstate NY and was frequently tapped to chair and present conferences throughout the state. He most recently had a private legal practice concentrating on Intellectual Property and emerging technology companies.
In addition to his professional pursuits, Monty had a passion for helping individuals and families who are affected by mental illness, and was a retired member of the Executive Board of Directors of NAMI Rochester.
Monty passed away on February 11, 2018, from pancreatic cancer. He had great love for his family. He is predeceased by his parents, Joseph M. and Edith Estes, and survived by Donna Leigh-Estes, his children, Alicia(Frank) Ignizio, Jay (Lisa), Lindsay, Chris (Erika) Monachino; 9 grandchildren; siblings Mary Edith Arnold, Gary Estes and Virginia Estes; and many nieces and nephews.
In lieu of flowers, memorials may be directed to Advanced Heart Failure Program, University of Rochester Medical Center, 601 Elmwood Ave., Box 679T, Rochester, NY 14642.