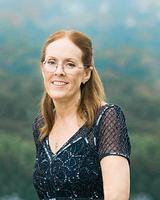 Sandra "Sandy" Hendrick
Hendrick, Sandra "Sandy"
Chili: Sandra "Sandy" Hendrick, dearly loved mother and friend, passed away peacefully on Saturday, April 27, 2019 at the age of 63. Sandy is survived by her daughter, Theresa (Patrick) Heaphy; and grandson, Jonathan.
Sandy was born on July 3, 1955 in Newark, NY, grew up in Palmyra, and lived most of her adult life in the town of Irondequoit. For work, Sandy was a pharmacy technician at Fay's and Eckerd Drugs, and a hearing aid technician at Hart Hearing Centers. Sandy also helped out at Saint Margaret Mary elementary school when her daughter was a student there and worked in the office at Centerstage Dance Studio. In her free time, Sandy enjoyed caring for her family cats, watching movies, listening to music, crafting, seeing broadway musicals, playing dice and card games, bowling, and going on vacation to Disney World. Above all else, Sandy treasured the time she spent with her daughter, Theresa, and was a truly loving, caring, and self-less mother.
We will carry her memory in our hearts always.
Her family will receive friends Friday, May 3, 4:00 - 7:00pm. Friends are invited to meet the family Saturday, May 4, 9:30am at St. Kateri At St. Margaret Mary Church for her memorial mass. Memorials may be directed to Hildebrandt Hospice Center, 3111 Winton Road South, Rochester, NY 14623 or to the Humane Society at Lollypop Farm, 99 Victor Rd., Fairport, NY 14450.