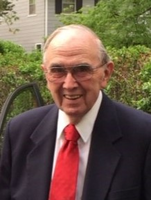 Robert W. Avery
Robert W. Avery
Irondequoit: Died on October 4, 2020 with his family by his side at the age of 92. Bob, as he was known to family and friends, rose from the small coal mountain town of Carbondale, PA to serve with distinction as the Assistant District Attorney for Rochester, NY from 1967 until his retirement in 1995 Born on June 18, 1928 as the son of Raymond and Hazel (Thacher) Avery. Bob, and his older brother Rowland (deceased) were raised in the Thacher and Avery stores, which were very popular in the local area for selling Mulhollands ice cream and as a confectionary store which sold bulk candy and cakes his aunt would make. Thoughout the Depression, the family opened their doors to extended family as well as strangers who need a warm, safe place to stay. After graduating from Carbondale Benjamin Franklin High School, Bob graduated from the University of Scranton and then earned his law degree at the Cornell Law School in Ithaca. He was admitted to the New York State Bar in 1953.
From 1953 to 1955, Bob served in the United States Army. He served at the Aberdeen Proving Grounds in Maryland, Fort Dix in New Jersey, and then with 537th Field Artillery Battalion at Fort Sill. While at Fort Dix he married Barbara Ann Bailey also of Carbondale, on March 13, 1954. Although the two families had lived just around the corner from each other, their relationship didn't blossom until Bob took the train to Scranton and Barbara would ride the same train to Poughkeepsie, NY where she attended Vasser College. Following her graduation from Vasser, Barbara joined Bob at Fort Sill, where she studied Medical Technology at Wesley Hospital in Oklahoma City. The couple welcomed their first son, Charles Edward (Chuck) who preceded Bob in death.
After receiving an honorable discharge in 1955, Bob and Barbara moved to Rochester where he joined the Griswold Streppa and Ferris law firm. He subsequently advanced to the Wiedman and Weidman firm, where he worked until 1959 when became a field examiner and attorney for the Hardware Mutuals Insurance Company of Rochester. In 1967, he joined the Monroe County District Attorney's Office in Rochester. Over the ensuing decades, he handled and served as lead attorney on a number of well known and high profile cases in Rochester. During this time, he and Barbara had two more children, James Robert born in 1957 and Kathryn Carol born in 1960.
In addition to being a member of a number of professional organizations, Bob was an active member of the All Saints Episcopal Church in Rochester and served as head usher. A longtime member of the Masons, He joined Fame LodgeNo 945, F&AM in 1960, and in1968 was named Master of that Lodge. In 1975, the Grand Lodge of Masons of the State of New York named him the District Grand Master of the Second Monroe District. He was also a member of the Hamilton Chapter, Royal Arch Masons; Doric Council, Royal and Select Masters; Monroe Commandery No 12; and Damascus Temple, Order of the Shrine.
Bob is survived by Barbara, his wife of 66 years, his son James and his wife Rita (Calcagno) Avery and his daughter Kathryn and her husband Alan Liotta; daughter-in-law, Cheryl Avery. He has five surviving grandchildren, Kristina (Avery) Garavaglia and her husband Thomas; Jon-Erik Avery and his fiancé Khailey Walsh; Jay Robert Liotta and his wife Caitlin (Hawley) Liotta, Christopher James Liotta and his wife Noel (Buck) Liotta; and Kerrie Avery-Natale and her husband Edward. He also had three great grandchildren, Ava Garavaglia, Benjamin Liotta, and Emerson Avery-Natale.
His family will receive friends Wednesday, October 7, 4-7pm at the funeral home (570 Kings Highway So.). Interment Private Willow View Cemetery, Clifford, PA. To share a memory or send the family a condolence, please visit www.harrisfuneralhome.com.