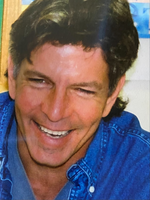 Keith F. Hearn
Keith Franklin Hearn died suddenly and unexpectedly in Valley City, Ohio on January 30th, 2021. Born and raised in Rochester, New York, Keith was predeceased by his loving parents, Francis D. and Robert J. Hearn; son, Christopher R. Hearn; and numerous loving Aunts, Uncles and cousins.
He is survived by 3 devoted sons, Robert J. Hearn (Alana), Keith R. Gray Hearn, and Richard W-J Gray Hearn; 2 grandchildren, Christopher, and Briella Dwaileebe; brothers; James (Susan) Hearn, and Bobby (Lori) Hearn; Aunt and Uncle, Dorothy (Dot) and Sam Poletta; and multiple close cousins and friends.
Keith grew up in upstate New York, where he had the good fortune of being raised in a loving and supportive family, regularly spending time with extended family members, developing lifelong bonds with Aunts, Uncles, and cousins. It was during his summer vacations spent at the family cottage on Cayuga Lake that he developed a passion for the water. His interests early on were water skiing, scuba diving and boating. Keith also had a deep love and appreciation for nature, and animals.
Keith's career began as an over-the-road Truck driver, where in his words, he could "enjoy the beautiful countryside and make friends along the way". Keith would teach himself the trade of being a Tractor-Trailer Mechanic, where he would utilize this skill throughout his life, accumulating an extensive tool collection. In 1990, Keith accepted a position at Gray Metal Products, as a mechanic and Truck Driver, eventually relocating and enjoying a successful career in Sales with an affiliate company, Gray Metal South of North Carolina. In 2002, he would open his own Transportation company, K&R Service Company, where he managed Owner/Operator Truck Drivers and performed maintenance repairs until 2007. Longing for the freedom of traveling the road and countryside, he returned to his passion of driving, settling in Ohio over the past several years. In his travels, Keith would regularly make his way back to North Carolina and New York, for visits with loved ones, if only for an afternoon. He continued to maintain particularly close relationships with his former in-laws, where there remained mutual love and meaningful friendships.
Keith will forever be remembered for his warm and engaging personality, his compassionate spirit, his kind smile, and his enthusiastic way of greeting you, no matter what his personal struggles were.
Calling hours for close friends and family will be held February 12th at Paul W. Harris Funeral Home, 570 Kings Highway South, Rochester, NY from 5 to 7 pm. Strict Covid-19 guidelines will be required. His Funeral Mass will be held Saturday, February 13th at 11:00am St. Jerome's Church, 207 Garfield St, East Rochester, NY 14445. For those who would like to view the service by live stream may do so at www.stjeromerochester.org and follow the prompts. Entombment White Haven Memorial Park. In lieu of flowers, donations can be made to your local animal rescue shelter.