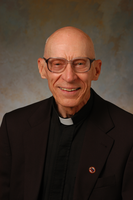 Rev. Albert W. Cylwicki CSB
Rev. Albert W. Cylwicki, CSB
Pittsford: February 7, 2021 at the age of 88. Father Cylwicki was born June 20, 1932 in Detroit, MI to Vincent and Victoria Cylwicki. After graduating from Catholic Central High School, he entered novitiate for the Basilian Fathers and made his first profession on August 15, 1951. He earned a B.S. in Science and Mathematics from Assumption College in Windsor, ON, a Bachelor of Sacred Theology from the University of St. Michael's College, Toronto, and an M.A. in Mathematics from the University of Detroit. Father Cylwicki was ordained a priest on June 29, 1960 at St. Basil's Church in Toronto.
Father Cylwicki taught at several Basilian high schools including the Aquinas Institute, where he also served on the Board of Trustees. In addition, he served St. John Fisher College for 25 years as a professor in the Mathematics Department, assistant director of campus ministry, and a member of the College's Board of Trustees. In 2016, he received the President's Medal for Service to the College. For many years he served at the House of Mercy, and spent summers assisting at parishes in CA and NJ. He authored two books, ran 22 marathons, and served as chaplain of the NTT IndyCar Series.
Father Cylwicki was predeceased by his parents and his sister Joan Dziedziak. He is survived by his brother-in-law John Dziedziak; nieces Jane (Craig) Horte, and Margaret and Therese Dziedziak; nephews David (Mary) Dziedziak; grandnieces Catherine and Candice; grandnephew Christopher; many cousins and his Basilian confrères.
A private Funeral Mass will be celebrated at St. John Fisher College in The Hermance Family Chapel of St. Basil the Great by Bishop Salvatore Matano on Saturday morning at 10:00 a.m. The Funeral Mass will be livestreamed and viewable at https://www.sjfc.edu/news-and-events/live/ Interment will be held in the Priests section of Holy Sepulchre Cemetery. Memorial donations may be directed to the Basilian Fathers Scholarship Fund, St. John Fisher College, 3690 East Avenue, Rochester, NY 14618.