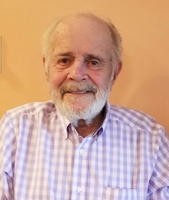 James "Jimbo" Koresko
James "Jimbo" Koresko
Ogden-Spencerport - James passed away on Monday, November 15, 2021 peacefully. He is predeceased by his parents Stanley and Genevieve, his brothers Edward, Stanley (Stash). He is survived by his loving wife Margie, his children Shawn (Emily) Koresko, Robert Herle, Paul (Jennifer) LaRuez, Wendy LaRuez, Richard Santarosa, David Ringer (formerly Koresko), his brother Jerome Koresko and Beth, brothers-in-law Ronald (Mary) Harris, Mel Bassett, his sisters-in-law Diane Deli, Esther Bills, many grandchildren, great grandchildren, nieces, nephews, and friends. James and Margie were together for 52 years and happily married for 46 years.
Jimbo was a crane operator in the family business Genesee Steel. He belonged to many Polish organizations.
Family and friends are invited to meet at the funeral home, 570 Kings Highway South. Monday, 4-7pm. Where funeral services will be held Tuesday morning at 11:30. Interment Holy Sepulchre Cemetery. Arrangements Entrusted to Joseph Klein. In lieu of flowers, those wishing can contribute to American Cancer Society.