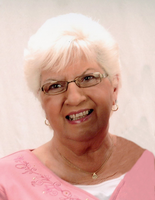 Marlene M. "Aunt Leanie" Camardo
Camardo, Marlene M. of Irondequoit passed away on Tuesday, January 25, 2022 surrounded by her loving family. She was pre-deceased by her husband, John Camardo and parents, Samuel and Frances (Prizzi) Marconi. Marlene is survived by brother, Michael and Liz Warzecha Marconi, Nephews, Michael and Jennifer Marconi, Brian and Jennifer Marconi, and Jeremy Marconi. Nieces, Dawn and Jeff Mischler, Stacy and Christopher Paddon. Great nephews, Brady Marconi Jaxson Marconi, Cayman Marconi, and great niece, Milan Marconi.
Marlene was the owner/ operator of West Irondequoit Physical Therapy. She loved Dogs and cherished the time she spent with family and friends.
Friends are invited to join the family on Thursday, February 3, 2022 from 4 to 7PM at the funeral home (570 Kings Highway So.) A Mass of Christian burial will be held Friday, February 4, 2021 at 10AM at St. Margaret Mary Church. Interment Holy Sepulchre Cemetery. In Lieu of flowers, donations may be directed to Lollypop Farm in Marlene's memory.