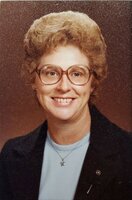 Lois Ann "Aunt Loie" Studley
Studley, Lois Ann "Aunt Loie" of Greece, passed away on Thursday, April 7, 2022. Lois was predeceased by her parents, John and Ethel (Patchin) Studley; brothers, Edward and George (Doc) Studley, sisters, Dorothy, Arlene Wunsch, and Joan. She is survived by her nephews, Michael (Cheryl DeMarree) Wunsch, James (Theresa) Wunsch, great nieces, Holly Wunsch, Jennifer (Kurt) Poquette, Elizabeth Wunsch, Annika Wunsch, and many other nieces, nephews and cousins.
Lois worked for 34 years as a payroll accountant for Dupont before retiring in 1991. She was an avid golfer and was a lifeguard at Ontario Beach Park in her younger years. Lois maintained her passion for swimming throughout her life. In her free time, she enjoyed spending time with her family and friends.
It was Loie's wish to have no services. Interment will take place at the convenience of the family. In lieu of flowers, donations may be directed to Lollypop farm or the Ronald McDonald house in her memory.