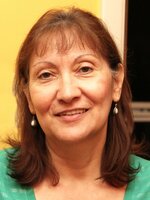 Evelyn R. Leon
Leon, Evelyn R. of Rochester passed away on Friday, April 15, 2022 surrounded by her loving family. Evelyn was predeceased by her mother, Esperanza Rodriguez, brother's, Jimmy Rodriguez and William Bianchi. Evelyn is survived by her loving husband, Heriberto Leon; daughter's, Belinda (Shawn) J. Dunwoody and Melissa (Samuel Bell) Leon. Stepdaughter, Nilda (Jorge) Leon-Romeu, brother, Jose Luis Bianchi. Sisters, Mildred Bianchi, Carmen Rodriguez and Mirta Arroyo. Grandchildren, Vanessa Rodriguez, Shawn Michael (Angie) Dunwoody, Justice Dunwoody, Evan Smith, DeAngelo Bell and Aiden Bell. Great-grandchildren, Jadelynn Rodriguez, Isabella Rodriguez, Kaleb Rodriguez and Sophie Rodriguez. Numerous nieces, nephews and cousins.
Evelyn was born in Ponce, Puerto Rico. She worked as an Administrative Assistant with over forty four years of dedicated services. In her free time, Evelyn enjoyed sewing, cooking, baking, gardening, making crafts, taking photos and assisting her time at the children's church, but she always cherished the time she spent with her family and grandchildren. She will always be remembered as "Super Handy Mom" as she could fix anything or always willing to help.
Friends are invited to meet the family at the funeral home (570 Kings Highway So.) on Friday, April 22, 2022 from 1Pm to 3Pm. Words of Remembrance will be shared by the family at 3PM. Interment will take place at the convenience of the family. To share a memory or send the family a condolence, please visit www.harrisfuneralhome.com.