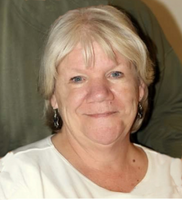 Tacie Korbs
Tacie Florence Korbs
Irondequoit: The Heavens are full of music and song. Tacie Florence Korbs was born June 12, 1951 in Texarkana, AR and passed away June 5, 2022 in Rochester, NY. She was predeceased by her parents, Amelia "Bubbles" Florence and William Florence; brother, Dexter.
She is survived by her husband of 18 years, Nelson "Spark" Korbs of Rochester, NY and his family, Cassie (Gina Gulino) Korbs of Greeneville, TN, Joshua (Erika) Korbs of Buffalo, NY and Tamara Korbs of Buffalo, NY; siblings, Joan Francois of Hot Springs, AR and William "Bill" (Tammy) Florence of Malvern, AR; grandchildren, Cayson, Piper, Frankie, Timothy "The Kid", Ryan, Arya and Dexter; numerous nieces and nephews.
Music was a huge part of Tacie's life. She started playing percussion in Jr. High and made that her life long career.
Tacie graduated from Henderson State University with a BA in music followed by her Masters in music. While working on her master degree, she continued to share her musical talents as youth director for the First United Methodist Church in Arkadelphia.
After completing her masters, she went back to directing bands in Arkansas, Louisiana and Texas. Her band students were more than her students, they were her family and stayed connected with many of them through the years.
Tacie met the love of her life in 2003 and moved to Rochester, NY. She absolutely loved her home, neighbors, birds and flowers, having conversation with Nelson and became a huge Yankees fan.
Her family will receive friends Thursday, June 9, 11:00am - 12:00pm at the funeral home (570 Kings Highway So.), where her funeral service will follow at 12:00 pm. Interment will be held at Rest Haven Memorial Gardens in Arkansas. In lieu of flowers, memorials may be directed to Paralyzed Veterans of America https://pva.org/