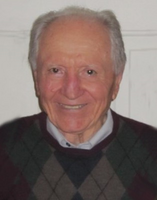 Wolodymyr Shtoyko
Wolodymyr Shtoyko
Greece: Sunday, July 10, 2022 at the age of 92. Pre-deceased by his loving wife, Georgette; siblings, Yaroslaw, Pilahiya and Klawdi. He is survived by his son and daughter-in-law, Dr. Robert and Julie Shtoyko; granddaughters, Dr. Ashley (fiancé, Carlos Rivera) Shtoyko and Stephanie Shtoyko
Wolodymyr was born and raised in Iszczkiw, Ukraine. He emigrated to the United States in 1949 and settled in Philadelphia, PA. Walter enlisted in the United States Army that same year and saw combat in Korea. He was wounded, earning a Purple Heart. Following his military service, he returned to Philadelphia in 1952 and was naturalized in 1953. He then received his BS in mechanical engineering from Temple University. Walter met his life long love, Georgette, in Quebec City, Canada and they married in 1959. They lived in Philadelphia where their only child, Robert, was born. They moved to Wappingers Falls, NY in 1963 when Walter was hired by IBM. He worked for IBM for 29 years, retiring in 1992. They then moved to Rochester, NY in 1993. Walter became a grandfather in 1995 and was never happier than when he was with his cherished granddaughters.
Walter and Georgette were married for 59 years and enjoyed traveling during their retirement.
He will be remembered as a proud Ukrainian, and even prouder American, a devoted husband, a great dad; and maybe most of all for being a doting Grandpa. He will be deeply missed
Wolodymyr's Divine Liturgy will be held Monday, July 18, 10:00am at St. Josaphat's Ukrainian Catholic Church. Interment Private Western New York National Cemetery.