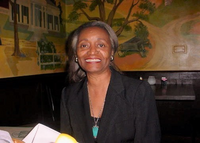 Emily Carolyn Scott, Esq.
Emily Carolyn Scott, Esq., 78, passed away on Saturday, July 9, 2022, at Ellicott Center for Rehabilitation and Nursing in Buffalo, New York. She was the widow of the late Frederick B. Hale and a native of Arkansas. Ms. Scott is survived by her sisters: Vivian K. Daniel, Joyce M, Barnett, and Opal D. Stevens, niece, Ingrid Armstrong-Doweary, children from her previous marriage: Philip Anthony Steptoe, Dr, Min. Carolyn C. Steptoe, D. Min., Julie Steptoe Bean, Esq., and Marsha S. Culler (Leonard); children by recent marriage: Elizabeth Hale, Michael D. Hale and Christopher D. Hale; two sets of grandchildren: Alexandria, Ryan, Mitchell, Aspen, Monica, Sloane and Logan; Aja Marie Steptoe, Alphonso A. Lee, Amanda G. Lee, August J. Lee, John R. Plummer III, Loren M. Culler and Devin M. Culler with a host of relatives, and friends. Carolyn is pre-deceased by her parents, her brothers, Paul J. Scott, Harold H. Scott, Sr. and John E. Scott; four sisters: Lois E. Johnson, Pauline I. Scott, Audrey A. Armstrong, and niece, Dr. Rev. Lisa M. Scott-Joiner.
Emily was born on August 9, 1943, to the late Elder Reverend Jonah Scott and Pauline Cummings Scott in Camden, Arkansas. Carolyn graduated from Lincoln Senior High School at the age of 15 earned her bachelor's degree at Marquette University in Milwaukee, Wisconsin and earned her juris doctor degree at the Thurgood Marshall School of Law at Texas Southern University in Houston, Texas. Following graduation, Carolyn was employed at a legal practice in Washington, DC. She married Rexford G. Steptoe, Jr. and helped raise his four children from a previous marriage. She remained in contact with the children after their divorce. Carolyn moved to Rochester, New York and began a private legal practice addressing a collective of legal matters including civil rights. Upon reuniting with her college boyfriend, Frederick B. Hale whom she later married. Carolyn and Fred relocated to Las Vegas Nevada, to Arizona, and to Bethel, Alaska. She was a city attorney for Bethel, Alaska Legal Services Corporation for a few years. Upon her retirement, Carolyn and Fred settled in Phoenix, Arizona.
As an active lifetime member of the National Bar Association, Carolyn took great pride in her profession advocating for her clients. She enjoyed reuniting with her colleagues each year at the annual conferences with she never missed - regardless of the location.
Always eager to engage in discussions about politics, government and social affairs, Carolyn was very passionate and well read. There were few questions she missed while watching Jeopardy. She will be greatly missed by her family and friends.
Celebration of Life Services are scheduled for Friday, July 29, 2022, 11:00 AM at Paul W. Harris Funeral Home, 570 Kings Highway South, Rochester, New York. Burial: Irondequoit Cemetery, 3671 Culver Road, Rochester, New York, 14622. For those unable to attend, please join the family by Live Stream (10 minutes before the service time) through the Paul W. Harris Funeral Home Facebook page here: https://www.facebook.com/paulwharrisfuneralhomepetsatpeace/.