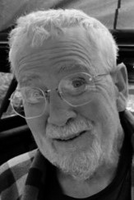 Patrick J. "Pat" Loewke
Patrick Joseph Loewke arrived in the world on November 2, 1952, and immediately began to wander. Eileen and Bob Loewke welcomed him as their fifth child to their home on 90 Holmes Road, where his siblings Danny (Twink) Loewke (Carol Loewke), Tommy Loewke deceased (Margo Loewke), Mary Loewke Walsh (Jim Walsh deceased), and Michael Loewke waited to make him their newest adventure. In an effort to keep up with his siblings, he would escape the yard to wander the neighborhood. His mother also nurtured and encouraged his sense of adventure and travel.
Upon graduation from Cardinal Mooney High School in 1970, he went to SUNY Brockport where he met some of his lifelong friends (Chuck Drilling, Al Priest, Victor Conocchioli, Mike Van Sice, Dennis Miller. With them, he left to see the world, visiting 4 continents before meandering home. From 1976 - 1980, he served in the Air Force as an avionics sensor systems specialist. Later he worked as an electrician, plumber and master pipefitter as a member of local 13.
In 1985, he married Gretchen Apgar, (Rita Apgar/ Mario Zedda, Jim Apgar/Jaye, Cathy Clancy/ Tim) and they have two sons, Kevin Egon Loewke and Colin William Loewke. His pride and excitement in his sons was clear for others to see. Both boys share his sense of adventure, love of travel, and compassion for animals…especially cats (pudders as he would say). He began doing woodworking and creating amazing entertaining and private spaces for friends and family. Patrick could design and build a house from the ground up and without the help of anyone, he was masterful and literally a jack of all trades. Always though, wanderlust called his name.
After suffering an accident on a construction project (luckily at a hospital), he needed a career change. He decided to go finish his degree and graduated with honors from both Monroe Community College and SUNY Brockport. He briefly got into substitute teaching in and around Monroe County and certainly had unique stories about his experiences in the Rochester City School district. He even substituted for Kevins' high school Spanish teacher, which wasn't embarrassing at all. He loved to travel and would spend weeks out west and was passionate about biking and hiking. He and his friend Sally Schepp recently returned from a west coast month long driving trip.
He expressed his adventures and frustrations in his art and poetry, and the occasional verbal assault on his computers. He was dedicated to his family lending moral and financial support to his nieces and nephews and was known to stop in just to say hello; in Colorado, or Dayton, or Cleveland.
Patrick freed his body (expired as he would say) on July 17, due to natural causes and continues his journey in peace.
Adjectives from his multitudes of nieces and nephews: Extremely intelligent, jolly, eclectic, interesting, coarse, irreverent, fiercely loyal, world traveler, curious, bold, hilarious, good on his word, unique, generous, explorer, fresh chef, free spirit, mindfully torched, attentive, patient, understanding, hippie, adventurous, humorous, great father, traveler, cycler, tall, art lover, postcard writer, considerate, easygoing, bike enthusiast, nature, rumbly, magical/mystical, national parks, gruff yet cultured, champion chanter "god damn Jesus mother of Christ", thoughtful, good orator, teacher, talented, and creative
Patrick was not one for funerals, and always uneasy at your typical funeral home. With that said, please join his family for a celebration of his life on Friday August 5th, 2022 from 5PM-whenever. The event will be held at Big Guys Campground located at 3739 County Line Rd, Brockport, NY 14420.