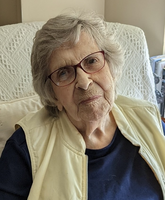 Lorraine T. Long
Lorraine (Iuppa) Long was a caring wife, mother, grandmother, great grandmother, sister and friend. When asked her age, she would respond, "Can you keep a secret? …so can I!" Sadly, she left this world surrounded by family on August 3, 2022 at the impressive age of 105.
She was born to Louis and Catherine (Hoffend) Iuppa on Valentine's Day, 1917 in Rochester, NY. One of five children, she always had a passion for dance and as a teenager, taught dance in a local school. Lorraine would say that she couldn't hear music without dancing to it and would often be seen moving in perfect rhythm, even from her wheelchair. She married Raymond J. Long on November 25, 1937. Though she attended business school, she always dreamed of having a family. Being a devoted mother became her career. Always the care-giver, she eventually took a job as a home health aide and then assistant cook for Franklin High School. She was known for her famous soups and loved interacting with the students. Lorraine was a skilled seamstress and gifted cook from which her family reaped the benefits. Her home always had the smell of her homemade specialties and delicious infamous pies. The Catholic Church was an important part of her life. She was a Eucharistic minister at her home church, St Cecilia's, and then Chapel Oaks at St Ann's, delivering communion to those that could not attend mass.
Predeceased by her brothers and sister, Louis (Clover) Iuppa, Berenice (Adam) Adams, Gerard Iuppa, and Vernon (Maye) Iuppa Sr. Lorraine leaves behind her 5 children, Dr. R. James (Wendy), Richard (Nancy), Kathleen (Lawrence) Burns, Gary (Janet), Laurie (Mark) Maddalina, her 19 grandchildren, 28 great grandchildren, sister Barbara Amico Sheredy, sister-in-law Ann Iuppa, many nieces, nephews and friends. She will be dearly missed by those who knew and loved her. Many thanks to the nurses, aides and staff at St Ann's home for their kind and compassionate care.
Services will be held at the St Ann's Chapel on Saturday, August 6 at 11:30 AM followed by a Christian burial at Holy Sepulchre Cemetery. For those unable to attend, please Go to https://www.youtube.com/channel/UCelT7GRIvw5u74w59e3dbXw?view_as=subscriber to access the YouTube channel. Contributions in Lorraine's name can be made to St Ann's Community.
NOTE: Masks Are Required For The Service
NOTE: Live Stream has changed fron Harris Funeral Home Facebook to St. Ann's YouTube Channel.