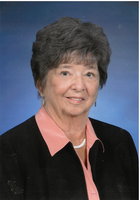 Eleanore P. Golomb
Eleanore P. Golomb
Irondequoit: April 21, 1933 - October 7, 2022. She is survived by her loving and devoted husband of 67 years, Eugene; daughters, Kathleen Golomb, Susan (Paul) Sugnet, Laurie Mastrosimone; grandchildren, Ashley (Michael) Kiviat, Meagan Adams, Clinton Sugnet, Keegan (Jen) Sugnet, Abby Rose (Charles) Esposito, Alison and Alex Mastrosimone.
She will be dearly missed by her family who was the most important part of her life.
Eleanore's Funeral Mass will be held Wednesday, October 12th at Noon at St. Stanislaus Church. Interment Private. Memorials may be directed to Friends of St. Stanislaus Foundation, 1325 Hudson Avenue, Rochester, NY 14621. Arrangement by Felerski Funeral Home.