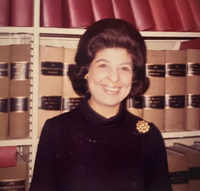 Mary Frances DiDonna
Mary Frances DiDonna of Rochester, New York, passed away peacefully the morning of October 14, 2022, at the age of 94. She is the daughter of Anthony and Francis DiDonna and is survived by her sister Jean (DiDonna) White, nieces and nephews: John White, Diane White Bonacci and Adam Bonacci (sp) Donna White and Geoffrey Gatza (sp); and Great niece and Great nephew: Sophia Bonacci and Nick Dostal. Mary graduated from East High School. Mary started her career in banking at Lincoln First Bank and continued working for Lincoln First/Chase Bank for over 40 years until she retired, most recent role of Bank Officer. She loved attending Musicals and other events at the Eastman Theatre.
Mary's Funeral Mass will be held Tuesday, October 25, 10:00 am at St. Kateri at Christ the King Church and proceed immediately following to Interment Holy Sepulchre Cemetery.