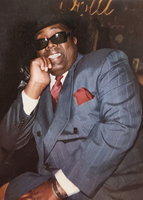 Rufus J. "Mr. Chicken" Monson
Rufus J. Monson
"Mr. Chicken"
Rochester: Sunday, November 27, 2022 at the age of 80. Rufus is survived by his loving wife of 40 years, Betty Monson; children, Rufus (Michelle) Monson Jr., Rufus Monson, Ruthiea Monson, Milton Monson, Timothy (Kizzy) Singletary, Angela (Wayne Hamilton) Monson, Rufus Monson, Nicole Monson and Tocarra Johnson; grandchildren, June, Rufus III, Rashaad, Anthony, Hailey, Michael, Donte, Justice, Chris, Breasia, Marlee, Mekhi; sisters, Connecticut Knight, and Ivory Miller; many great grandchildren, nieces and nephews.
Rufus was a restaurateur and business owner, dedicating his life to serving his community. He will be remembered as being the owner of Mr. Chicken & Subbies, Monson Supermarket, Chicken and Ribs, and Taurus One Nightclub which was located on Hudson Ave.
His family will receive friends Friday, December 9, 4-8pm at Ark of Jesus Ministries (1000 Winton Rd. N) where his Celebration of Life will be held on Saturday, December 10th, 11:00 am. Masks will be required at church. Entombment Holy Sepulchre Cemetery.