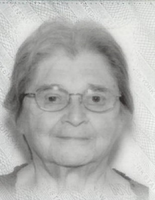 Felicita Anne Draper
Draper, Felicita Anne of Irondequoit, NY passed away on Monday, December 5, 2022. Felicita was pre-deceased by her husband on July 14, 1979, George Jr. Draper, her parents, James and Alberta (Day) Horn. Felicita is survived by her children, Karen Draper, Scott Draper, Mary (Stuart Taitt) Peterson-Mercier and Andrew Draper. Grandchildren, Ethan Draper, Corey Draper, George Trevor Draper, Lyndsey (Nick) Albertson, TJ (Jordan) Peterson and Hayley Mercier. Great Grandson, Benjamin Albertson. Numerous nieces, nephews, cousins and friends.
Felicita was born in Rochester NY and married the love of her life, George Jr. Draper, on May 31, 1958 in Rochester. Felicita was retired from Eastman Kodak where she worked as a lab Assistant with 20 years of dedicated services. In her free time, Felicita loved cats, dogs and was always working on word search but she cherished the time she spent with her family and especially her grandchildren whom she was very proud of.
Graveside services will be held at the convenience of the family. Interment at Holy Sepulchre Cemetery. In lieu of flowers, donations may be directed to Basilian Fathers Scholarship Fund at St. John Fisher College or the Aquinas Institute In Felicita's memory.