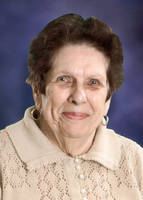 Serafina R. Sotolongo
Serafina Rocio Sotolongo, wife of Federico and youngest of 6 from parents Juan and Aurelia and born in Ourense Spain, passed away in her sleep on Saturday morning, November 26th.
She is survived by son Eduardo and wife Kelly Sotolongo, daughter Raquel Sotolongo as well as additional step children.
Grandsons Mateo and Phillip, Granddaughters Marylin and Raquel Francesca and additional step grandchildren and step great grandchildren as well as several nieces and nephews.
In Cuba, she was a seamstress for some of the prominent families in Cuba.
In the US, she worked as Housekeeper for the Strathallan hotel in Rochester for many years until her retirement.
After retiring she stayed active by volunteering her time as an honorary grandparent or "Abuelitos" program at Ibero Day care for many years where she received several Volunteer awards.
In her later years she enjoyed going to the Ibero "Centro de Oro" (Golden Center) senior meeting center where she found friendships and socializing with others. She was loved and will be missed by many.
It was Serafina's wishes to have no services at this time. Interment will take place at the convenience of the family in Spain.