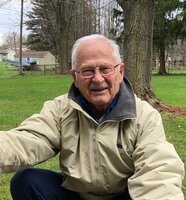 Petros N. "Peter" Theodorou
Petros N. Theodorou "Peter"
Webster: Friday, December 9, 2022, Petros Theodorou, loving husband, father, and grandfather passed away at age 91. Predeceased by his parents, Nikolas and Efsivia. He is survived by his wife "Sweet" Lorraine; his daughter, Nancy (Dick Daly) Rogers; his granddaughters, Natalie (Steve Dimassimo) Rogers and Christina Rogers; sister, Dena (Nick) Marou and their family.
Peter immigrated from Greece through Ellis Island in 1951. He will be remembered as the owner of Pete and Lori's Restaurant and Theo's Place in which he worked hand in hand with his wife Lorraine for over 50 years.
His family will receive friends Tuesday, December 13, 1:00pm - 2:30pm at the funeral home (570 Kings Highway So.), where his funeral service will follow at 2:30 pm. Entombment White Haven Memorial Park. In lieu of flowers, memorials may be directed to Hildebrandt Hospice Center, Rochester Regional Health Foundations, 330 Monroe Avenue, Suite 400, Rochester, NY 14607.