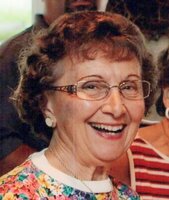 Yolanda "Yoley" Pepe
Pepe, Yolanda of Pittsford passed away on Monday, December 26, 2022. Yolanda was predeceased by her loving husband, Carl Pepe, parents, Arthur and Mary (Sasso) Vitale, and sisters, Theresa Vitale and Jean DiMaria. Yolanda is survived by son, Carl (Kimberly) Pepe and daughter, Carol Ann (David) Charvella. Granddaughter, Grace Marie Pepe. Brother-in-law, Frank DiMaria and several nieces, nephews and cousins.
Yolanda was a lifelong resident of Rochester, NY. She married her husband, Carl on November 5, 1949. Yolanda was a devout catholic and loving Mother who always put her family first. In her free time, Yolanda volunteered at her church and St. Ann's home for numerous years. She always cherished the time she spent with her family. Her family gathered every Sunday for a dish of macaroni, a family game of choice and lots of laughs.
Friends are invited to join the family on Wednesday, January 4 from 4 to 7PM at the funeral home (570 Kings Highway So.). Friends are invited to meet the family at Our Lady Queen of Peace Church on Thursday, January 5 at 10AM for her funeral mass. Interment will follow at Holy Sepulchre Cemetery.