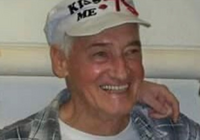 Curtis Knight Walker Jr.
Curtis Knight Walker Jr.
Irondequoit: Tuesday, December 27, 2022 at the age of 84. Predeceased by his first wife, Judith; son, Fred and 8 siblings. He is survived by his loving wife of 26 years, Mona Walker; children, Wendy (Jeff Conklin) Fichthorn, Debby (Jere) Quick; daughter-in-law, Patricia Frosini; step children, Rabonna Berndt, Jeffry (Lisa) Smith, and Sarah (Dan Holberton) Rush; grandchildren, Nicole (Milton) Harper, Billy (Casey) and John (Becky) Fichthorn, Kai Quick, Audrey and Brandi Walker, Ben (Brittany) Arnold, Joe Kwiatkowski, Mark Berndt and Lexie Berndt, Mandy (Shi) Andrew (Sue) Visiko, Adam and Connor Lavelle, Molly, Kylie and Caleb Rush; 15 great grandchildren; many nieces and nephews.
Curtis was an avid horseshoe player and musician. He worked at Rochester Tel for over 33 years. Curtis was also a longtime member of Durand United Church of Christ.
His family will receive friends Monday, January 2, 4-7pm at the funeral home (570 Kings Highway So.), where his funeral service will be held Tuesday, January 3, 10:00 am. Interment Riverside Cemetery.