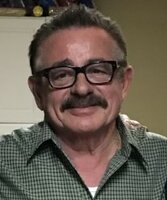 Rafael A. "Padin" Padin-Cortes
Padin-Cortes, Rafael A. of Rochester passed away on Wednesday, January 4, 2023. Rafael was predeceased by his parents, Jose and Luz Elena Padin-Cortes, brother, Juan Jose Padin. He is survived by his loving wife of 55 years, Rosa Padin and their children, Alex (Beth) Padin, Lily (Carlos) Marrero and Rafael (Natasha) Padin, Jr. Grandchildren, Natali Padin, Camryn Padin,Gabriela Padin, Idalis Torres, Aracelys Padin and Shanalee (Ron) Gonzales. Siblings, Jose (Maria) Padin, Edwin (Rosa) Padin and Nelson (Elba) Padin. Sister-in-law, Rosa Padin. Several brother in-laws, sister-in-law's, nieces, nephews and cousins.
Rafael was born in Quebradillas, Puerto Rico. He married the love of his life, Rosa Blanco on October 21, 1967 in Haverstraw, NY. In 2003, Rafael retired from RG&E where he worked as a Truck Driver with 25 years of dedicated service. Rafael loved music, cars, dancing, taking his chance on lottery and scratch offs, playing Dominos, collecting watches, Antiquing and going to garage sales looking for the deals, but most importantly, Rafael cherished the time he spent with his family and grandchildren. Rafael loved to work and his family was and will be grateful of having Rafael as a provider and mentor.
Friends are invited to join the family on Monday, January 9, 2023 from 4 to 7PM at the funeral home (570 Kings Highway So.). Friends are invited to meet the family on Tuesday, January 10, 2023 9:30AM at Our Lady of the America Corpus Christi, on 860 E. Main St. Rochester NY 14605 for his funeral mass. Interment will follow at Holy Sepulchre Cemetery. In lieu of flowers, donations may be directed to the Lipson Cancer Institute in Rafael's memory.