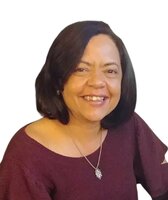 Ana E. Joa
Ana E. Joa
Rochester: Monday, February 20, 2023 at the age of 60 after a short battle with cancer. She is survived by her loving son, Richard (Yanelis) Joa; beloved grandchildren, Amelia Joa, Camile Joa, Olivia Joa, and Joelier; her mother, Carmen Adames; sister, Carmen (Ken) Gray; brother, Fausto Nova; nephew and niece, Allen and Kelly Gray.
Ana was born in the Dominican Republic in 1962 where she worked as a doctor. She will be remembered as a wonderful teacher at the Eugenio Maria De Hostos Charter School here in Rochester for the past 3 years.
Calling hours will be held Monday, February 27th, from 10:00am-11:00 am at the funeral home, where her funeral service will follow at 11am. Interment Holy Sepulchre Cemetery.