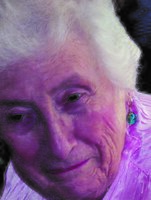 Bertha Marguerite "Billie" Bentivegna
Bertha Marguerite Bentivegna "Billie" age 99 of Rochester, NY passed away on Wednesday, March 7, 2023 in Penfield, NY. Billie was predeceased by her loving husband, Salvatore Bentivegna on July 27, 1998 and her parents, Lucia (Gross) and J. Paul Knowlton. Billie is survived by numerous nieces, nephews and cousins.
Billie was born in Dansville, NY on July 2, 1923. Billie was retired from Gleason Works in Rochester where she worked as a draftsman. Billie always cherished the time she spent with family and friends.
Friends are invited to join the family for a graveside service on Wednesday, March 15, 2023 at 11AM at Holy Sepulchre Cemetery. We will be meeting at the Lake Ave. gate and proceeding in at 11AM..