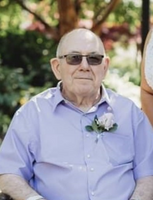 James O. Ferris
James O. Ferris
Irondequoit: Tuesday, March 14, 2023 at the age of 83. Pre-deceased by his wife, Marcia; brother, Jerry; granddaughter, Brianna Mayo. He is survived by his children, Cindy (Brad) Mayo, Jimmy (Denise) Ferris, Tina (Brian) Lubore, and Larry Yazzie; grandchildren, Brittany Christa , Courtney (Tony) Catalfamo, Mikayla (Austin) Blair, Connor Mayo, Cory (Marina) Ferris, Morgan Ferris; great grandchildren, Christian, Ellie, Anela, Noah, Boujie, Royal, Hailey, and Jax; sisters, Bonnie Hurley and Annie (Bob) Austin; brother Randy (Barb) Ferris; sister-in-law, Paula; brother-in-law, Ray (Lynda) Brand.
James was a longtime member of First Bible Baptist Church and Faith Bible Baptist.
His family will receive friends Friday, March 17, 11am-1pm at the funeral home (570 Kings Highway So.) where his funeral service follows at 1:00pm. Interment Falls Cemetery.