info@harrisfuneralhome.com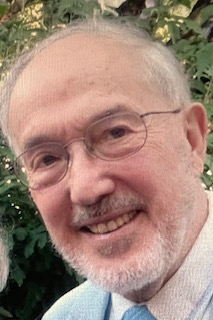 Obituary of Edwin F. Fleche
Edwin F. Fleche
Irondequoit: Tuesday, April 4, 2023, after a long illness. Predeceased by his loving wife, Virginia (Sullivan) after 68 years of marriage. Survived by his children, Timothy (Ellen) Fleche, Michael Fleche, Peter (Jean) Fleche, Ellen (David) Whitbourne, Peggy, Anne (Jane), Betsy, and Monica Fleche. Also survived by eight grandchildren, Andre (Meredith) Fleche, Justin (Darla) Fleche, Alex (Moira) Fleche, Christopher (Allison) Whitbourne, Genevieve (Chris) Cunningham, Catherine (Matt) Stanley, Margaret (Brad) Stanley, and Elizabeth Fleche. He was also very proud of his 13 great-grandchildren, Ellianna and Ryker Whitbourne; Liam, Lennon, Liana, and Lochlan Fleche; Jane, Lydia, and Claire Stanley; Thomas and Harry Stanley; and Julian and Ronan Fleche. He is also survived by many dear nieces, nephews, cousins, and friends.
Our father Edwin grew up in St. Andrew's parish in Rochester with his dear Aunt Emily and Uncle Frank and his cousin Hermaine, who was like a sister to him and remained close all their lives. Their home was just down the street from the church and school, and one street over from his future wife, Virginia Sullivan. In that atmosphere he and Virginia grew to know and love their faith, the joys of learning, and each other. They maintained and developed those values throughout their lives and continued schooling, Dad then attending Aquinas Institute in Rochester and the Basilian Fathers' Assumption College in Windsor, Ontario. He was there when WWII began, and entered the college's Naval Officers' Training Program, serving then as Communications Officer on a minesweeper, The USS Improve #248, stationed in the South Pacific.
Returning to Rochester in 1946, he and Virginia were married at their home parish, in St. Andrew's Church. They then moved to Ann Arbor, Michigan, where Dad completed his doctoral studies in English Literature, but, facing the needs of a growing family, left to accept a teaching position at Merrimac College in Massachusetts. Wanting to remain near family, he and Mom finally decided to return again to Rochester, settling in Irondequoit where they raised a family of eight children and Dad began a 54-year career of service to the then-budding East Irondequoit School District.
That career as an educator and English teacher began in 1956 at Durand-Eastman Elementary School; then when Eastridge High school opened the next year, Dad joined as part of the of the original faculty. One of his contributions to the school for many years was as yearbook advisor, teaching students in the days before computers to cut-and-paste mockup pages and helping them create many award-winning Pageants. Having started a teacher's union at Durand, he continued being active in the union, participating in 1973 in the first successful teacher's strike in the state of New York.
Dad was a dedicated teacher who worked long hours on innovative lesson plans and student papers, and who truly enjoyed his students and his colleagues. He loved teaching both grammar and literature, and said that, no matter how many times he taught The Scarlet Letter, a Shakespeare play, or another piece of literature, he always discovered something new. His grammar lessons were a beautiful blending of color, creativity, clarity, and fun. Dad was an extremely intelligent and thoughtful person with a subtle sense of humor, and those qualities served his students well.
Around 1960 Dad inaugurated the Irondequoit Summer Playground program and served as its first director. Primary schools such as Parkside, Briarwood, and Laurelton-Pardee were opened for six weeks during the summer to provide children with supervised activities, highlighted by a day on the rides at Kiddie Fun Day at Seabreeze Amusement Park – a great day for the children of Irondequoit!
While still teaching at Eastridge, Dad also served as East Irondequoit's Director of Adult Education and continued to run that program until 2013. He found wonderful teachers for many varied courses, and continued his own lifelong learning, gaining proficiency in T'ai Chi, Yoga, and Chinese cookery and even teaching some classes when teachers were out. Besides these developed interests, Dad was an enthusiastic jogger, swimmer, and cross-country skier, and eventually a faithful member, into his eighties, of the Senior Swim group at Eastridge and Irondequoit High Schools.
Mom and Dad together achieved some heroic feats of caring and faith. In the summer of 1963, they packed themselves and all eight kids into a Volkswagen bus and drove across the country to Arizona for a month-long visit to Mom's brother Jack, who was seriously ill. While we stayed at the ranch with him and his family, Mom and Dad could share again the love of horses and the joy of horseback riding they had shared in their youth with Mom's brother and her sister Marie, and that Dad had experienced as well in the brief years he and his mother Sidonie had lived in Wyoming when he was a boy.
By the mid-sixties, the house was too small for the whole family, and, in another staggering act of daring and self-sacrifice, Dad, with our uncle Dave and of course the involvement of our mother, built a major addition to the house, an enormous project of which we are very proud and for which we remain very grateful.
It's hard to speak of Dad without speaking also of Mom, as theirs was a true partnership, and the most important things to them were shared. They did share interests, of course; they enjoyed the arts and literature, philosophy, and letter-writing, and helped instill in us that same appreciation. They loved nature. They had honeymooned in the Adirondacks; family vacations were always in cabins by a lake; and the house was always full of pets. They loved their family and friends and never lost their sense of fun and enjoyment of the little things. For fun they took us swimming, often at Aunt Hermie and Uncle Dave's pool where we spent many memorable summer afternoons with their kids, our cousins; we also went ice skating; for outings at the beach and the park; and, most special of all, for little visits to our beloved grandparents, Rose and John Sullivan in their dear little home back in the old neighborhood on Barberry Terrace. Mom and Dad always loved reading and sharing all kinds of literature. They read to us, and often with each other; and most recently, when Dad was tired, we read to him.
During our parents' marriage, raising eight children, and welcoming two more generations of eight grandchildren and thirteen great-grandchildren, they were one in sharing their faith, love, generosity, and values, and strived together to witness to those and pass them along to those whom they loved. Their home was always open to every family need and every family occasion and holiday, as well as regular impromptu dinners, babysitting, and generous hospitality for everyone.
Above all, our parents deeply loved their Catholic faith, which they had lived and breathed since
earliest childhood and which had only deepened through time and the many trials and joys of life. They saw to it that their children received the sacraments and Catholic educations through high school, and brought us all to Mass every Sunday and holy day. We celebrated our feast days, put our shoes out on St. Nicholas Day, and said the rosary together every evening during Advent and Lent. They were ardent and informed Democrats, keeping abreast of the news and sharing reasoned discussions on issues, and they inspired in us that same commitment to the Church's social teachings of social and economic equality and justice.
Through all the changes and challenges in the Church throughout their lives, their faith remained undaunted and undeterred. They were always involved in parish life: First at St. Margaret Mary's where Dad belonged to the Men's Club and sang in the men's choir; later at St. Thomas the Apostle where, participating in the new opportunities for lay involvement in the Church, they served as Eucharistic ministers in the parish and brought communion services to nursing homes as part of the Irondequoit Senior Ministries. One of Dad's cherished privileges was assisting Father Robert Bradler in lighting the Easter Vigil fire at St. Thomas the Apostle Church. They continued deepening their spiritual life and understanding through daily Mass, prayer, and reading, and by attending courses and lectures, belonging to the Chesterton Society, and personally undertaking numerous pilgrimages, including shrines in Quebec and many visits to the Shrine of the North American Martyrs and St. Kateri Tekakwitha's birthplace.
Dad's immense and inspiring life was one of joys and blessings, as well as sacrifice. He truly made a difference and touched countless lives in his devoted service to faith, family, and community and his personal presence in all our lives – a dear, loving, great, and unique presence, like Mom's, that we sadly miss, but still love, and know still loves us, because love never dies.
Calling Hours will be held Thursday April 20th, from 4:00pm-6:00pm at the funeral home (570 Kings Hwy S.) Edwin's Funeral Mass will be held Saturday, April 22, 10:30 am at Holy Cross Church. Interment Holy Sepulchre Cemetery. In lieu of flowers, memorials may be directed to St Joseph's House-Hospitality, 402 South Ave, Rochester, NY 14620 or, Catholic Bishops of Northern Alaska,1316 Peger Rd. Fairbanks, AK 99709. To share a memory or send the family a condolence, please visit www.harrisfuneralhome.com.