info@harrisfuneralhome.com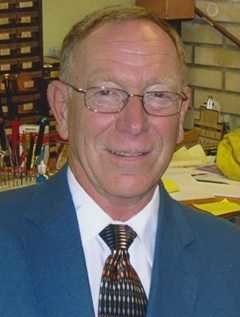 Obituary of J. Russell Thomas
James Russell Thomas was born on October 23, 1941 to Marjorie West and James Benjamin Thomas on Long Island, NY. He had a sister, Susan, who was 3 years older.
Russ, as he liked to be called, always told us of his wonderful childhood in Amityville, NY. He was raised in the Methodist church – and attending and being active in church remained with him throughout his entire life. Russ revered his father, who was a pillar of the church, and so he was raised with a very strong and deep faith. His father instilled in him a love for the Boy Scouts of America, where he was an active leader. He helped Russ earn his membership into the Order of the Arrow, as well as his Eagle award. His father also instilled in him a love for camping, which he would carry with him throughout his life, creating many memorable adventures with his family over the years. He adored his mother and admired her strength and tenacity, as she was very crippled with rheumatoid arthritis for most of her adult life. He told us that his sister Susan would pick on him any chance she got – like filling a glass with soapy water and telling him it was an ice cream drink, or telling him that mothballs were candy. They grew much closer as they got older. Russ loved growing up and being a teenager in the 1950's, especially the rock and roll.
Their family spent a week each summer at a Christian resort camp called Camp of the Woods in Speculator, NY (Adirondack Mountains). He LOVED it there and could not wait for that vacation each year. As a teenager, he worked there playing his trumpet and also as a waiter in the dining hall. Only the most elite musicians were hired, and it was a thrill and honor for him to be employed to play his trumpet.
Russ decided to study Music Education at SUNY Fredonia because he wanted a job where he could play his trumpet every day. He told us that he would even practice in the janitor's closet if the stage or other practice rooms were unavailable – he just wanted to play. While he was very devoted to his trumpet, he was also a young man and in 1962 a certain young lady caught his eye in Mason Hall, the music building at Fredonia. Kathy was a Freshman at Fredonia studying flute performance. Russ asked her out, but Kathy turned him down because she had a boyfriend at home. He was going to be studying abroad in Belgium for a semester and to help mend his ego he figured that maybe it was better to be single while in Europe.
Russ' experience in Antwerp, Belgium during his junior year was an early highlight in his life. His trumpet professor was one of the best trumpet players in the world, and was therefore very demanding. Russ was so proud that he studied under someone of that caliber. He played numerous concerts around Europe during that semester. It was a phenomenal experience with many cherished memories.
When he returned to Fredonia the following September, that young lady was still on his mind. Depending on whether you ask Russ or Kathy we get different stories on who pursued whom. They started dating, and after 3 months Russ proposed to her. She accepted and they were married 6 months later.
Russ and Kathy were married in Elba Presbyterian Church (near Batavia) on June 8, 1963. Kathy was 19 and Russ was 21. Russ graduated from Fredonia the following day receiving a BS in Music Education. They planned it that way so that his parents would only have to make the long trek across the state once. His mother was quite frail by this time.
Russ applied to the East Irondequoit School District and was hired in the summer of 1963. He started at Ridgewood Middle School and there were many girls who had mad crushes on this handsome young new teacher! Several years later he moved to Durand Eastman Elementary school where he spent the majority of his career. He was transferred to Eastridge High School in 1983 for three years, then returned to DE to finish up his career in 1997.
Their firstborn, James Lee, was born very prematurely and unexpectedly in July 1964. They were in Fredonia, where Russ was working on his Master's degree in Music Education. One night, while attending a drive-in movie and eating cherries, Kathy started having a stomachache. Deciding to drive home to Rochester to see the doctor, they got as far as Batavia, where she learned that she was in labor- 3 ½ months early! Jimmy was born that night, and then spent the first month of his life in the NICU before he was allowed to go home.
Four years later their daughter, Jennifer Susan, was born in August 1968. She was born right on time – a skill that she retains to this day. Russ said he was "over the moon" to learn that he had a little girl to complete their family. He said one of the first images that came to his mind was one day walking her down the aisle at her wedding. Russ and Kathy planned to have children while they were young so that when we were older, they would still be young!
Russ joined the Point Pleasant fire department in September 1967. He loved the comradery that went with it. One particular young guy named Gary Clarcq stuck out and something just clicked with them– they became best friends. Russ was an active firefighter getting up at all hours of the night and leaving school during the day whenever a call came in. We were used to the scanner going off at home and Dad taking off for the firehouse. He became an active member in October 1967 and achieved Life Member in October 1977. He served as Lieutenant 1970, Captain 1971-1975, Assistant Chief 1976-1979 and Chief 1980-1981. In addition, he and Gary also advised the Explorer Post for 17 years. In the fire association Russ served as Chaplain 1986-1987, Financial Secretary and Treasurer 2005-2015. Russ played on the "Pea Pickers" softball team for many years. Russ achieved the distinguished level of being a 50-year volunteer firefighter in 2017 – a goal that was extremely important to him.
Russ and his best friend, Gary (both teachers), also started a painting and construction crew, called 4Q, to supplement their incomes during the summers. Over the years they employed their children, friends and several former students. They were extremely proud of the fact that they never had a single argument during their many years together. In fact, they often wondered how they ever got any work done since they were constantly quoting comedian Robert Klein, telling stories, and laughing all the time.
During his teaching career he did the following at Durand Eastman: he started the first elementary jazz ensemble, the Musician of the Month program, scale contest, "Best Lesson of the Week", and "Pork Chop of the Year" award. He also organized a number of talent shows. He composed numerous pieces of music for students – their own individual pieces, to make them feel special. He also wrote a number of plays for the 6th grade students over the years. These included all kids, not just music students (i.e. Summer Camp). He even wrote, casted and directed a movie with the kids – The Princess of the Sea! He was extremely creative and wanted the kids to have fun, while developing skills that would remain with them for life.
Early on in his teaching career Russ would get frustrated that a repair for a students' instrument would take weeks. He would say, "How can I run a program if the kids don't have their instruments?!" He decided to learn how to do some simple repairs in order to expedite getting the instrument back in the student's hands. He started a small shop in the basement of his house on Adrian Rd. – the early beginnings of Thomas Music. The shop moved to the basement of Hartsdale Rd., then eventually to the back of the garage. Russ and Kathy moved to Portland Avenue 20 years ago, and one of the features that sold Russ on the house was the huge basement for the shop. In 2000, his daughter Jennifer left her job with corporate America to join her Dad in the repair business. They moved the shop out of the house in 2007 to its present location on E. Ridge Rd. In 2018 they celebrated 50 years in business! In 1976 Russ attended a week-long repair course in Wisconsin, and the guys decided to start a repair organization that would support them in their businesses. Each tossed $10 into a hat and that organization became NAPBIRT – the National Association of Professional Band Instrument Repair Technicians. He was extremely proud to be a Charter Member, and Jennifer joined in 2001. They attended many conferences around the country. He always said that the shop was his retirement – and it was precious years spent together building their business. Over the past several years, Russ had various health issues that required him to spend less time at the shop and allowed him more time to do things around the house. He would still come in for lunch every day and empty the garbage on Fridays.
Russ served as Coordinator of Bands for the Monroe County School Music Association in the late 1970's for 4 years. This was before any technology, so it took an enormous amount of personal time. He was responsible for scheduling solo festivals, hiring judges and selecting the students for the festivals.
At Eastridge High School, in addition to his teaching responsibilities during the day, he was Director of the Lancer Marching Band for 9 years. They won two state championships under his direction, and Eastridge starting hosting an annual NYS Field Band Competition, The Rainbow of Stars, that continues to this day. Russ served as President of the NYS Field Band Conference followed by two years as the Financial Secretary.
In 1986 Russ received his Certificate of Advanced Studies (2nd Master's degree) in Educational Administration from SUNY Brockport. That same month his son, Jim, graduated with a BS from SUNY Fredonia and a month later his daughter, Jennifer, graduated from Eastridge HS.
Russ retired from teaching in 1997 after 34 years in the district. He announced his retirement at the end of his final concert and the kids were in hysterics crying. It was very emotional, sweet and heartbreaking to see their reaction.
Russ was President of the Arts Council of Irondequoit from 1998-present. He was also still a member of the Zoning Board of Appeals for the town of Irondequoit, starting his 3rd term. (Each term is 7 years.) Additionally, he volunteered at the town television station ICAT for many years. He enjoyed camera work and video editing. He created many videos at home for many family events and school activities. Yanni's music was his favorite background music for his videos.
He was very active in his church, Irondequoit Presbyterian, serving two terms as an Elder on Session. He served as Choir Director for 8 years back in the late '60- '70's and sang in the choir until several months ago. Like his father, he was a pillar of the church, having been a member for over 50 years. He arranged a great number of pieces of music for the Easter band and Christmas band. Several times a year he organized and played in a brass quartet on hymns to accompany the congregation and organ. Russ taught Sunday School for several years. He served on the stewardship committee for many years and loved to use video to enhance the message of giving time, talent and treasure to the betterment of the church and thus to the community.
Russ played in the Irondequoit Concert Band for many years and was the conductor for 12 years. As a band member, in addition to playing trumpet he would fill in on percussion if needed, and then eventually played baritone sax until he stopped playing in 2017.
At the age of 68 Russ decided that he wanted to try something new, so he took lessons and learned to play the violin, eventually switching to viola. He joined the New Horizons string orchestra and made an entire new set of friends. Around the same time, he decided that the town of Irondequoit needed an orchestra, so he founded and directed The Irondequoit Community Orchestra. He absolutely loved that orchestra! It is in its 9th year, and he had to resign from it about a month ago due to health reasons. He hopes it continues to flourish in his absence.
Russ' health started to decline about a year ago and more rapidly over the past few months. He was a very proud man with a stubborn streak that many of us knew well. He loved his family with all of his heart and soul and loved the town of Irondequoit and his many friends. He will be missed, but he leaves behind a long-lasting and far-reaching legacy.
We are eternally grateful to the incredible staff at Strong Memorial Hospital. His surgical team was nicknamed "The Dream Team" because he truly had the BEST of the best; all the nurses, doctors and technicians that cared for Russ are most certainly angels on earth. They all recognized how special he was – he turned on the charm and was cracking jokes throughout his two week stay.
Calling hours will be on Friday May 31st from 4-8pm at Harris Funeral Home, 570 Kings Hwy S, 14617. Russ' memorial service will be held on Saturday June 1st at 2pm, Eastridge High School auditorium, 2350 East Ridge Rd, 14622.
Please do not park in Aman's Farm Market or Wegman's lots. Additional parking in front of the school, at Culver-Ridge Plaza or on side streets.
Memorials in Russ' memory can be made to the Irondequoit Presbyterian Church Endowment Fund, 2881 Culver Road, Rochester, NY 14622, to the Point Pleasant Fire Association, 55 Ewer Avenue, Rochester, NY 14622 or to the NAPBIRT Endowment Fund, 2026 Eagle Rd. Normal, IL 61761.
Visitation at Funeral Home
4:00 pm - 8:00 pm
Friday, May 31, 2019
Paul W. Harris Funeral Home, Inc.
570 Kings Hwy. So.
Rochester, New York, United States
Memorial Service
2:00 pm
Saturday, June 1, 2019
Eastridge High School
2350 E. Ridge Road
Rochester, New York, United States
Final Resting Place
Rochester Crematory
70 O'Connor Road
Fairport, New York, United States