info@harrisfuneralhome.com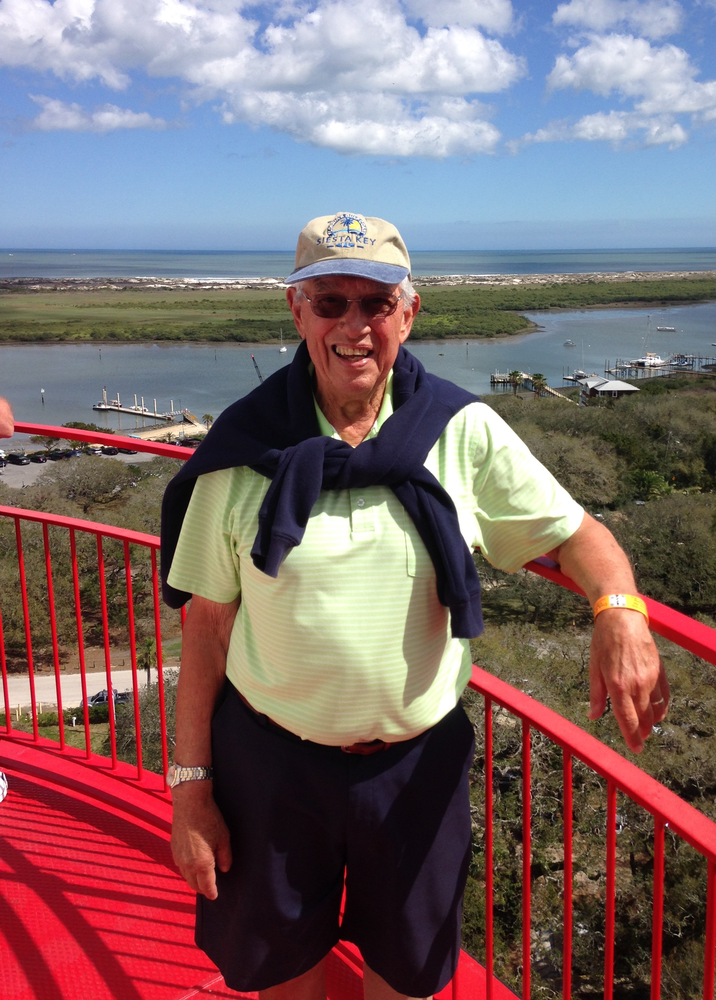 Obituary of John Raymond Herrema
Irondequoit: John R. Herrema Jr. passed away peacefully on Saturday, May 16, 2020, with his beloved wife of 55 years, Judy, and son, Erik ("Rik"), at his side, and with his three other sons, Greg, Jeff, and John, joining them virtually.
John Jr., who everyone knew fondly as "Jack", was born in Rochester, NY on November 3, 1936, to John R. Herrema Sr. and Helen A. Gara Herrema. The family resided in Youngstown, Ohio, before returning to Rochester where Jack graduated from Edison Tech in 1954.
Jack enlisted with the Navy as a radar technician after graduating from Edison Tech and completed active duty between 1955 – 1957 aboard the USS Daly, a Fletcher-class destroyer stationed in the Mediterranean and Red Seas. Following active duty, he continued in the Naval Reserve until his honorable discharge in 1962.
Jack joined his father, John Herrema Sr. in operating the White City Grocery Market, which John Sr. purchased in 1952. The business was a staple in the West Irondequoit community, operating under many names but most notably Herrema's IGA. Jack found his calling and took over the business after his father retired.
Jack married his loving wife of 55 years, Judith Ann Herrema, at St. Thomas the Apostle on June 20, 1964. Judy, a registered nurse, worked at Strong Memorial Hospital until 1965 after which she devoted her time to raising their four sons. She subsequently earned a BS in Nursing from Alfred University and returned to work in the medical profession until retiring in 1998.
In February, 1987, the grocery business was relocated to the Stutson Street Plaza where it continued serving the Irondequoit and Greece communities and is currently known as Herrema's Marketplace. Jack "unofficially" retired when he sold the business in 2007, but continued working until he "officially" retired earlier this year.
Jack had a genuine interest in his customers - he welcomed every one with a warm smile and knew all by name. His customers were friends, his employees were family. He instilled a strong work ethic and sense of pride, not only in his four sons, but in generations of Irondequoit's youth who worked at Herrema's.
Jack's passion for serving others extended deep into the community as well. The Irondequoit Chamber of Commerce selected Jack as Irondequoit's Person of the Year in 2016 for decades of contribution and commitment to the community and fellow business owners. Through the grocery business, he supported numerous causes including sponsorship of youth sports teams and food donations to St. Thomas the Apostle and Holy Cross. Jack was a volunteer fireman with the St. Paul Fire Department between 1961 – 1973 and was the 23rd president from 1971 – 1972. He remained an active member of the St. Paul Exempt Firemen's Association where he also served as a member of the Board of Trustees. He was a member of the Canandaigua National Bank Advisory Board, served on the Board of Directors of the Sunset House and on the Board of Trustees for the Irondequoit Public Library, where his efforts contributed to the successful relocation and construction of the Irondequoit Public Library.
In his "spare" time, Jack was an outdoors enthusiast and sportsman, a die-hard Buffalo Bills and Syracuse Orangemen fan, and an avid sideline cheerleader and "coach" for his grandchildren's sports teams. He loved to golf and was at the 2010 Masters with his four sons to see his golf hero, Phil Mickelson, don the Green Jacket. He acquired a love for travel that was inspired by Judy, and together, they covered most of the United States and much of the world, including the Caribbean, Europe, Asia, South Africa, and Russia. He especially enjoyed family reunions in Saranac Lake, Keuka Lake and Cape Cod.
Jack was preceded in death by his parents, John R. Herrema Sr. and Helen A. Gara Herrema; son Peter J. Herrema; brother Robert L. Herrema, and sister, Judith Herrema Shorey.
He is survived by his beloved wife and friend of 55 years, Judith Ann Herrema; children Gregory J. Herrema (Itsuko), Jeffrey M. Herrema (Dana), John R. Herrema III (Rebecca) and Erik S. Herrema (Cory); sisters Joanne Viets (Robert) and Janet Zorn (Robert); brother Thomas Herrema (Janet); and twelve grandchildren, Haydn and Mari Herrema; Jackson, Evan and Christian Herrema; Jack and Matthew Herrema; and Rory, Robby, Brady, Devon, and Camden Herrema.
Jack's Memorial Mass will be held, Wednesday June 30th, 11:00am at Holy Cross Church. Those wishing to do so may make donations to Sunset House or the Irondequoit Community Food Cupboard.
To send flowers to the family or plant a tree in memory of John Herrema, please visit Tribute Store
Memorial Mass
11:00 am - 12:00 pm
Wednesday, June 30, 2021
Holy Cross Church, Rochester, NY
4492 Lake Avenue
Rochester, New York, United States