info@harrisfuneralhome.com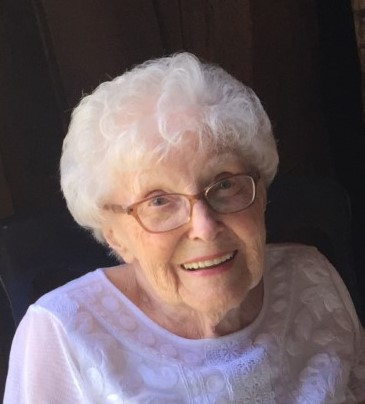 Obituary of Jane H. Biggs
Jane H. Biggs
Irondequoit: June 2, 2021 at 101 years old. Predeceased by her husband Francis J. Biggs, daughter Laurie K. Meyers, parents Milton and Hilda Howe, brother and sister-in-law Vernon Howe and Carolyn Howe Scott, brother-in-laws Raymond Nicholas and F. Ross Walker. She is survived by her daughter and caretaker, Sharon (John) Carr and two granddaughters Elizabeth (Eric) Pierce and Abigail Carr, her sisters, Beverly Walker and Judith Nicholas, and her son-in-law Neil Meyers. She is also survived by her daughter Holly Biggs and three grandsons and one great-grandson. Also many loving nieces, nephews, friends and extended family members who came together to celebrate her 100th birthday and will fondly remember the wonderful occasion at Hurd Orchards.
Jane was also predeceased by her husband's sister and brother-in-law Dorothy and Leslie Whittenberg and his brother Gordon Biggs as well as his half brother Llewellyn Biggs and his wife Mildred. She saw many births in her 101 years but unfortunately also many deaths in the family, many of them way before their time.
Jane graduated from Franklin High School at 16 and started a career at Eastman Kodak Company that she stopped for family reasons and started again after her husband's untimely death in 1973. She retired in 1983. Her good fortune at Kodak led her to New York City to work on an anti-trust law suit for five years where she met many friends and was close to her daughter Laurie and other family members in the City and was often visited by her daughter Sharon for shopping, museums and theatre which they both loved. They continued this pleasure when back in Rochester and had season tickets to GEVA attending even after Jane turned 100 years old, stopped only by the pandemic.
When Jane returned to Rochester and retired she enjoyed travel with friends and after that spent winters in St. Petersburg Florida with her sister Beverly with frequent visits from family and friends. Their good friends Roy and Bob were always close by in Florida to keep them company.
Reading was Jane's favorite pastime, both classics and best sellers, with both filling her bookshelves. Nelson DeMille was her contemporary favorite and her son-in-law Neil would send her the latest when it was released. She also loved poetry and possessed many volumes and couldn't have been more pleased when her daughter Laurie attended Vassar, the alma mater of her favorite poet Edna St. Vincent Millay. She was also a whiz with the daily Jumble, able to solve it most days before breakfast was over.
A very talented woman, Jane made her own silhouettes, a type of art she loved and also did sweet illustrations for stories and turned them into paper dolls for her daughters when they were young. In addition, a fine seamstress, she made many outfits for her daughters and of course their dolls. As a knitter, her mittens knew no equal.
Like many of her generation, Jane was independent and a fighter which is what enabled her to defy the odds and reach 101 while remaining in her own home until almost her last days.
Her daughter Sharon and her family would like to thank the help they received from Sharonne, Kathy, Kelly, and Tammy and others along the way, without whom that would not have been possible. At the end Hildebrandt Hospice provided her with a peaceful and painfree environment to end her days. She will be greatly missed.
Her family will receive friends WEDNESDAY June 9 4:00 - 7:00 pm at the Funeral Home (570 Kings Hwy South). Interment at Irondequoit Cemetery 11:00 Thursday June 10. In lieu of flowers, memorials may be directed to Lollypop Farm, 99 Victor Road, Fairport, NY 14450, www.lollpop.org or Geva Theatre, 75 Woodbury Blvd, Rochester, NY 14607, www.gevatheatre.org, 232-1366.