info@harrisfuneralhome.com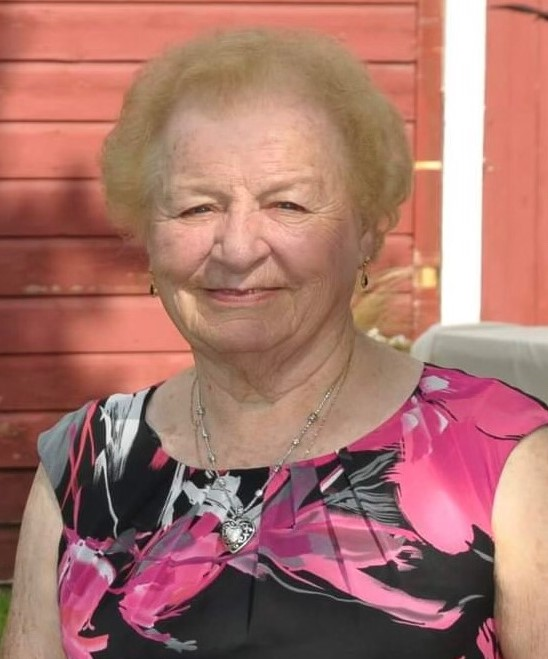 Obituary of Lorraine E. O'Brien
Please share a memory of Lorraine to include in a keepsake book for family and friends.
Lorraine (Cook) O'Brien, 95, of Rochester, NY passed away on Sunday, Oct. 10, 2021 at Highland Hospital. Mrs. O'Brien was predeceased by her husband of 58 years, James A. O'Brien and a brother, Howard Cook. Right up to her passing, Mrs O'Brien resided at the family homestead that she and Mr. O'Brien established in Irondequoit 72 years ago!
Mrs. O'Brien was the daughter of Estelle and Albert Cook. She attended Sacred Heart Elementary School, Nazareth Academy and St. Mary's School of Nursing, where she earned her RN (Registered Nurse) degree. Mr. and Mrs. O'Brien were married on November 26th, 1949 at Sacred Heart Cathedral. Throughout her lifetime Mrs. O'Brien worked as a full or part time Nurse at St Mary's Hospital, the Nortonian Nursing Home and at Rochester General Hospital, all the while raising and caring for her 6 children in a household of 3 generations. She was a lifetime communicant at St Margaret Mary Church.
Mrs. O'Brien first and foremost was dedicated to her family. Left to cherish her memory are her six children and their spouses; James O'Brien (Karen) of Wappingers Falls, NY; Kevin O'Brien (Todd Kilmer) of Saratoga Springs, NY; Laurie Diehl (Michael) of Rochester; Karen Moonan (Vaughn) of Rochester; Maureen Squilla (Daniel) of Webster, NY; John O'Brien (Christine) of New Orleans, LA; and Daughter in law, Carol O'Brien of Clifton Park, NY. Also 19 grandchildren; Erin O'Brien of Poughkeepsie, NY; Shannon Morris (David) of Seattle, WA; Maura Kristel (Jeremy) of Glenville, NY; Katie Mokay (Michael) and Meaghan O'Brien (Brad Potter) of Clifton Park, NY; Maggie Diehl of Bedford, NH; Kathryn Diehl and Justin Diehl, of Rochester; Kevin Moonan of Clifton Park, NY; Kaley Odenbach (Alex) of Webster, NY; Brady Moonan, Colleen Moonan (Mitch Morrill) and Sheila Moonan (Matthew Simmonds) all of Rochester; Kelly Squilla (Josh Jones) of Webster, NY; Molly Stagnitta (Michael) of Penfield, NY; Megan Williams (Marc) of Beaver Falls, PA ; Matthew Squilla (Sydney Cassagnol) of Freeport, FL; Alison Killebrew (John Nolan) of Memphis, TN and Nick Ingles of Denver, CO. In addition, 18 great grandchildren with 3 more on the way! Numerous nieces, nephews, cousins.
Out of caution over COVID, the family has chosen not to have public calling hours.
In lieu of flowers, donations may be directed to the American Diabetes Association.
A Funeral Mass will be celebrated at 10:00 am on Friday, October 15, 2021 at St. Margaret Mary Church, 401 Rogers Pkwy, Rochester, NY.
Rite of committal will follow in Holy Sepulchre Cemetery, Rochester.