info@harrisfuneralhome.com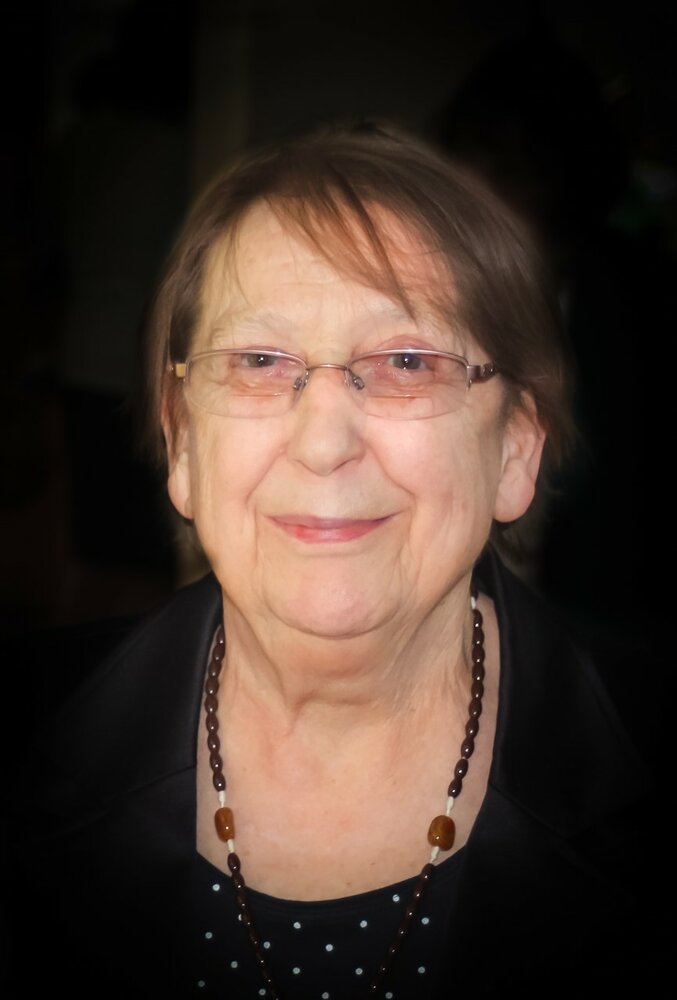 Obituary of Beverly D. Ezrow
Beverly "Bev" Davis Ezrow was a tiny woman with an enormous personality. Bev was a caring wife, mother, grandmother, great-grandmother, sister, aunt, and friend. She left this world on January 15, 2022, less than a month before her 90th birthday.
She was born to Sarah Davis Kurtz on February 9, 1932, the sixth of ten children.
On a blind date in her late teens, she met a handsome young airman, Gerald "Jerry" Ezrow. Just a few dates and many letters later, she set out alone on a train to Spokane, Washington, where she and Jerry were married on September 9, 1953. Together, they had four children: Michael, JoAnn, Lori, and Larry. Just as they loved each other in good times and in bad, Bev and Jerry loved their children through thick and thin.
Bev and Jerry were married for nearly 65 years, until his death in 2018. Shortly before he died, he told her, "Bev, you need to know you are the best wife in the world." In turn, she spoke with deep gratitude of her many years with the "best husband ever."
Beverly was known for her joyful smile and laughter, her sincerity and bubbly friendliness, and her complete devotion to God and her loved ones. You would be hard-pressed to find her without a rosary in her hand or her pocket, and she spent hundreds of hours praying in front of the Blessed Sacrament and performing works of mercy with the Legion of Mary at St. Thomas the Apostle Church. She kept lists of prayer intentions in notebooks, in several calendars, and on random scraps of paper; once she began to pray for you, she would never stop.
Beverly loved to learn. The books on her over-stuffed shelves ranged from ancient Greek philosophy to Victorian novels to fairy tales to political commentary and beyond. After her children were grown, she decided to study for a GED, applying her range of interests to earning a high school diploma — simply because she could. She threw herself into many hobbies over the years, including sewing clothes for her children and grandchildren, oil painting and drawing, and crafting beaded Christmas ornaments with her late sister-in-law Aldea.
Most notably of all, Beverly embodied the spirit of trust in God and delight in the present moment. Her faith was simple, accepting, and joyous. Whether she was enjoying nature and laughing with friends at a campground, playing dice around the kitchen table, or walking along Lake Ontario or her Irondequoit neighborhood, Beverly shared the joy of God's presence with everyone she encountered — whether you were a life-long friend or a random stranger at the grocery store. Her faith was so tangible that many — especially her husband Jerry — would insist, "Beverly is a saint."
Beverly is survived by her four children: Michael (Denise) Ezrow, JoAnn (Michael) Wagner, Lori (Timothy) Camp, and Larry Ezrow (Patty Fulford); eight grandchildren; and twenty-two great-grandchildren with more on the way.
She is also survived by her sisters Dixie (Jim) Kroeger and Debbie Ryan; her sisters-in-law Makiko Davis, Elizabeth (Patrick) O'Brien, and Eleanor King; her brother-in-law Francis (Tonya) Tacy; and many nieces and nephews.
Besides her loving husband, Jerry, she is predeceased by her parents, Sarah and John Kurtz, and her siblings Eppie, Milton, Charles, Alice, Virginia, Edlah, and Lisle.
Calling hours will be held on Friday, January 21, from 4-7 p.m. at the Paul W. Harris Funeral Home (570 Kings Hwy S). A Mass of Christian Burial will be held Saturday, January 22, 11 a.m. at St. Thomas the Apostle Church (4536 St. Paul Blvd). Interment will follow at Irondequoit Cemetery. In lieu of flowers, a donation in her honor may be sent to St. Thomas the Apostle Church; please make checks payable to SKT Latin Mass Community.