info@harrisfuneralhome.com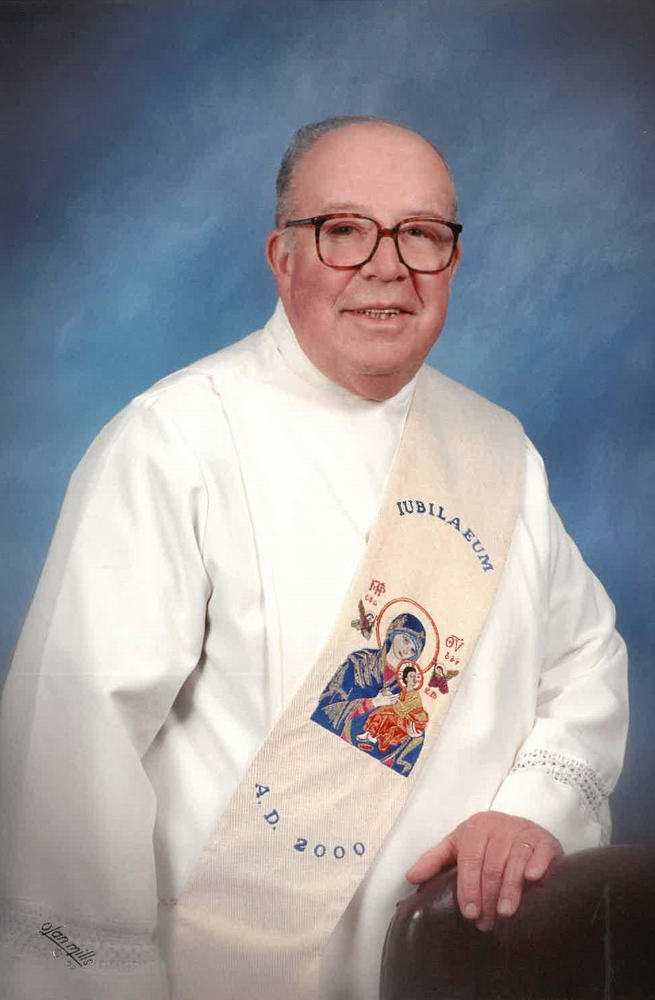 Obituary of William F. Schmitz
Please share a memory of William to include in a keepsake book for family and friends.
Born and raised in Rochester, N.Y., Deacon Bill Schmitz was the fourth of nine children born to Alfred W. Schmitz, Sr. and Leona F. Schmitz. He attended Holy Apostles, Nazareth Model and Blessed Sacrament Catholic Grammar Schools, Sacred Heart Mission Seminary (Society of the Divine Word), Girard, Pennsylvania, and Aquinas Institute (1953). Bill received a Bachelor of Science in Languages (German and Polish) degree from the School of Languages and Linguistics of Georgetown University, Washington, D.C. (1965) and a Masters of Arts in Theology degree from St. Bernard's Institute, Rochester, N.Y. (1987).
From 1955 to 1964, Bill served in the United States Army in Communications Intelligence as a German/Polish linguist, translator, cryptanalyst, voice intercept specialist and Detachment Commander (Staff Sgt. E-6), with 5 years of communications intelligence duty in West Germany. It was during this time in Coburg, Germany that he met his eventual wife, Erika U. Klose. They were married stateside on November 16, 1963. Upon concluding his military service and graduating from Georgetown, Bill began his tenure at the Xerox Corporation, where he would serve in many roles over a 31-year management career in Administration, Customer Relations and Human Resources, retiring in June, 1998.
Ordained a Permanent Deacon for service in the Diocese of Rochester in June of 1986, Bill served as Parish Deacon at St. Leo Parish in Hilton, with concurrent duties at St. Mary's Hospital and at St. Andrew/St. Philip Neri parishes in Rochester. Between 1987 and 1993, Bill also served as Director of the Summer Field Ministry Program for candidates in the Permanent Diaconate Formation Program of the Diocese of Rochester. Deacon Bill's final assignment took him to Mother of Sorrows Parish in Greece.
Bill was a member of the St. Vincent de Paul Society since 1977, when the first parish conference of the St. Vincent de Paul Society in the diocese was founded at his home parish, Christ the King. He has also been heavily involved in the Knights of Columbus, having served as Grand Knight of the Pope Pius XII K. of C. Council in Irondequoit, Faithful Navigator of the Bishop James E. Kearney 4th Degree K. of C. Assembly, District Deputy, Chairman of the Board of District Deputies for the Diocese of Rochester and State Scholarship Committee Chairman of the New York State K. of C. Council. In addition to his involvement with the Knights of Columbus, Bill served on the boards of Catholic Charities, CYO and the Aquinas Institute. And many teens will fondly (or not so fondly) remember Mr. Schmitz as their religious education instructor at Christ the King.
As an avid sports enthusiast, he dedicated his time and efforts as both a coach and League President of the Irondequoit Vikings Vince Lombardi Youth football league, in addition to coaching Little League baseball, girls' softball, and Biddy Basketball. He was a self-proclaimed "very bad golfer," who grew to enjoy the game upon his retirement. His lifelong hobbies included watching football at all levels, cooking, listening to music – especially when sung by his daughter, Kristen – and combing through his extensive library.
Bill is survived by his wife of 58 years, Erika Schmitz, his three married children, Thomas A. (Carla) Schmitz Sr., Suzanne (Mark) Laese and Kristen (Joel) Mezzio, his grandchildren, Thomas A. Schmitz Jr., Carlie M. Schmitz, Nicholas W. Schmitz, Kailer J. Schmitz, Renee M. (Philip) Ortolani, Broderick T. Laese, Riley J. Laese, Mason W. Mezzio, Carter T. Mezzio, and Victoria G. Mezzio, and his great-grandson, Vincent Mark Ortolani. He is also survived by his siblings, Paul Schmitz and Leona Schramm, and by countless nieces and nephews.
Deacon William F. Schmitz was a bastion of both his secular and religious communities and commonly served at the intersection between the two. He was an extraordinary man of great intelligence and integrity, whose wisdom, character, and humor will be deeply missed by all who knew and loved him.
To view the service, please click here https://www.facebook.com/paulwharrisfuneralhomepetsatpeace