info@harrisfuneralhome.com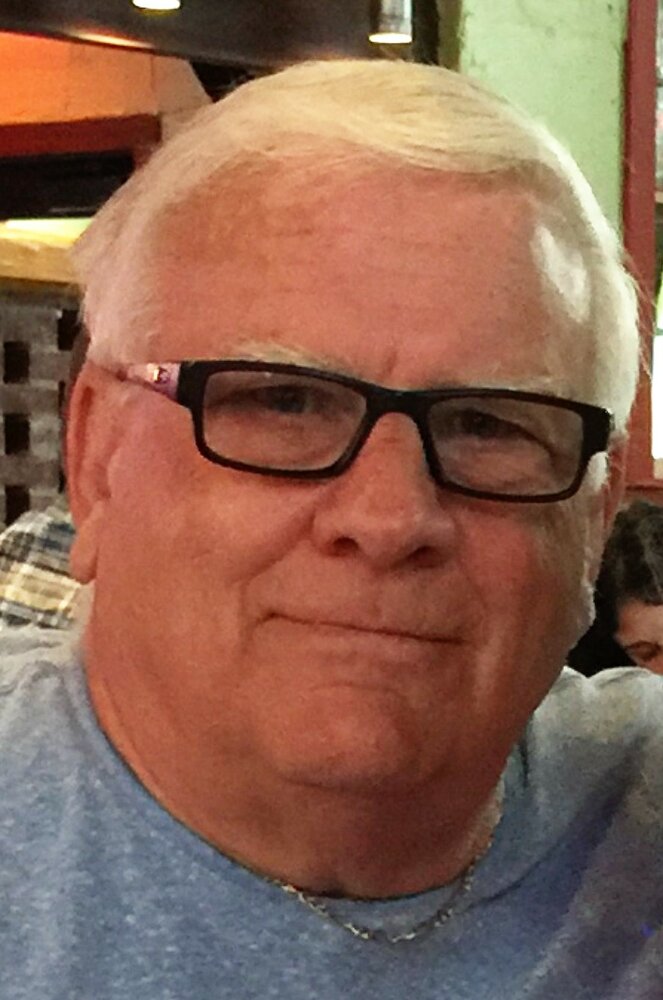 Obituary of Gregg E. Roegner
Please share a memory of Gregg to include in a keepsake book for family and friends.
Roegner, Gregg E. of Irondequoit passed away on Friday, August 19, 2022. Gregg was predeceased by his parents, Herbert and Emma (Richter) Roegner, brother, Gary Roegner, sister, Marilyn Flynn, nephew, Scott Flynn and mother-in-law, Jane McCabe. Gregg is survived by the love of his life, Kathy McCabe, children, Todd Roegner and Kristina Vician (and their mother, Susan Verzillo Saunders), son-in-law Eric, daughter-in-law, Tamara.
Grandchildren, Kali Vician, Kendal Vician and Livia Roegner. Father-in-law, John F. McCabe, MD. Brother-in-law, John (Theresa) McCabe and sisters-in-law, Maureen (Mike) DiMaria, Eileen McCabe (Tim Walsh), Anne McCabe (Kevin Marlowe) and Mary (Tim) Oonk. Godson, Robert (Nancy) Flynn, many beloved nieces, nephews, great nieces, great nephews and cousins. And a large second family of friends, neighbors and coworkers.
Gregg proudly served his country in the US Air Force from 1966 to 1971. He worked for more than 40 years in public safety and retired as a Research Technician with Monroe County 911.
A celebration of Gregg's life, love and laughter will be held at an open house on Saturday 11/26/22, from 1 to 4, at Arbor at the Port, 1000 N River St, Rochester NY 14612.
Interment will take place at Holy Sepulchre Cemetery. In Gregg's memory, donations may be directed to www.HonorFlightRochester.org. To share a memory or send the family a condolence, please visit www.harrisfuneralhome.com.
Gregg is a 1966 alumnus of Edison Technical and Industrial High School. After graduation, he proudly served his country in the US Air Force until 1971, including in Vietnam where he joined his brother, Gary.

After his military career, he continued a life of service and giving throughout greater Rochester and in Florida where his children and grandchildren live. At National Ambulance, he was known as Car 9; at 911 he was known to go beyond the daily work and always pop in to wish everyone a happy holiday; at the local florist where he knew the manager and delivery driver by name, he was known as the customer who loved to randomly send flowers to the beautiful Kathy McCabe – mostly yellow ones.
His pride for everything Rochester spanned from his front yard where he greeted all his neighbors and built a bond with the mailman, to his backyard where he spent evenings just relaxing. Additionally, he often could be found attending every parade and car show in town. He socialized with everyone who would listen to stories about his blue 1969 Dodge Charger, his Mitsubishi 3000GT and his Corvettes – one award-winning, the other a convertible, where he could often be seen cruising around donning his favorite Vietnam Veteran hat.

He looked forward to the winter weather because it meant taking out his snow blower and breaking out a blizzard of snowy stories to tell his Florida family. He told tales of snow skiing and, in the summer, pulling up to five water skiers at once on the Roegie boat. He was proud to hang out in the Snack Shack and Kissing Rock in the mountains at Brynilsen's Viking Village yearly with Kathy and the entire McCabe family.
Gregg shared Rochester pride when he vacationed in Florida: Zweigle's hots, Boss Sauce and stories about America's oldest wooden roller coaster, the Jack Rabbit at Seabreeze Park – which he affectionately referred to as the "Jacques Ro-Bear." While he was honored to claim local eateries as his own: garbage plates from Nick Tahou, ice cream from Abbott's Frozen Custard and an old fashioned or Martini (up, with a twist) at Nick's Sea Breeze Inn, where he would proudly point out his name on the wall … he actually preferred stuffed artichokes, crab legs, McCabe Goulash, sausage bread, pierogies and bagels – NO FRUITY ONES! No matter what he ate, or where he dined, he always looked forward to being in the company of friends – especially at the 911 retiree lunches.

The "News, Juice, Scoop and the Poop" was always front and center. He kept up with all the trends – from his stylish wardrobe that included 57 ties, 3 pairs of Hey Dudes and his hallmark turtlenecks – to the latest in teenage lingo (he was a Bussin grandpa for sure!) Gregg got his first and only tattoo with his oldest granddaughter (he has the head of a Nickel on his wrist, Kali has the tails on hers). He was always quick to bet you a nickel that his beloved Buffalo Bills would win, and he always taped nickels inside the cards that he sent to his granddaughters. He loved to celebrate holidays with his family and was the best gift giver. In addition to cheering for the Bills, he also enjoyed watching baseball – the Rochester Red Wings and the Tampa Bay Rays (with his son, Todd).
His affection and passion for life came out in his loud voice and quiet men's club handshake. Conversations with friends and family would often begin with, "I got a question ..." It was less than prophetic but always poetic:
Gregg/Dad/Grandpa is Great.
Gainful and Galant, a wonderful date.
Gritty and Gamesome.
All together handsome.
Gifted at Gab.
Good-humored dad.
Glossy hair.
Hands in the air – Gladly Giving.
More Gentle than Genteel.
Always Generous. Very Genial.
Manly not Girly.
Loved his Girls surely.
Grounded yet Grandiose.
Great for a toast:
Beer in his Garden.
Wine without pardon.
Guiltless pleasures.
Guaranteed treasures.
Grateful to know.
Room to Grow.
Not Goodbye,
Just very sad to see you Go.
Godspeed Gregg/Dad/Grandpa … we ALL love you so.