info@harrisfuneralhome.com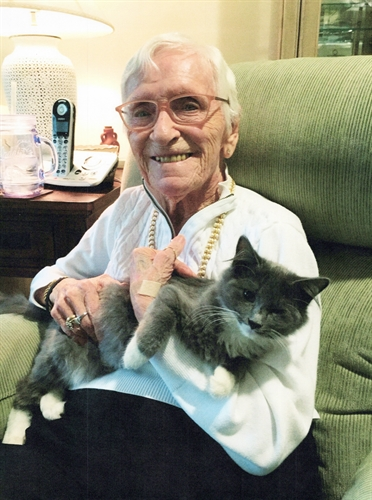 Obituary of Catherine E. Jenny
Catherine Elizabeth Jenny (Betty) was born on March 23, 1924, in Utica, NY, the daughter of Matthew and Catherine (Dillon) Eichler. Betty graduated from St. Francis DeSales High School and graduated from Excelsior School of Business, certified as a comptometer operator. During WWII, she was employed with the payroll department for New York Central Railroad and Remington Arms. She also worked as a nurse's aide at Faxton Hospital. She became engaged to her future husband, Jerome Jenny, while he was training before he was shipped to Europe for active duty in WWII.
After their post-war marriage, Betty and Jerome raised seven children: Barbara (Paul) Nickerson, Thomas (Janice) Jenny, Diane (Daniel) Seaman, Kathleen (Gregory) Smith, Clare (Sam) DeVola, Carol (Joseph) Paladino, and Eileen Christensen. Betty was predeceased by her husband, Jerome and son-in-law, Scott Christensen. Besides her children, she is survived by 14 grandchildren and 23 great-grandchildren, and her feline companion, Fluffy. Betty lived independently and enjoyed being with her family. She also enjoyed traveling, reading and playing cards.
Her Mass of Christian Burial and Interment will be held privately.