info@harrisfuneralhome.com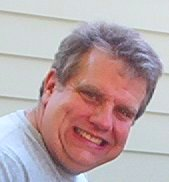 Obituary of Paul G. Simpson III
Paul G. Simpson III
09/09/1959 - 05/25/2023
Paul was called to his joyful and eternal life on May 25th, 2023 at the age of 63. He passed peacefully, surrounded by his family, after a long battle with Frontotemporal Dementia (FTD). Born in Marion, Ohio, he was the beloved son of Paul G. Simpson, Jr. and Dorothy (Cusick) Simpson. Paul was a tough Irish charmer with a mind like a steel trap and an incredible sense of humor. He loved his family fiercely, and always shared his opinions freely. Not afraid to plunge into tough challenges, he was adept at finding innovative solutions and could fix anything. He was proud of his time spent serving his country in the Navy. Paul's military education and expertise served as the foundation for his work for several defense contractors and in starting his own businesses.
Paul was a proud graduate of and football player for Marion Catholic High School. He passed on an scholarship to play college football and entered the U.S. Navy, where he trained as an Aviation Electronics Technician. While serving full-time and working multiple part-time jobs, he earned his B.S. in Electrical Engineering with a 4.0 GPA. After leaving the Navy, he joined General Electric in Syracuse, NY, where he volunteered for a three year deployment to the Kingdom of Saudi Arabia to install radar systems for the Peace Shield Radar Project. He was in the city of Riyadh while it was under attack by Iraq at the beginning of the first Gulf War. He traveled the world on his time off, including trips to Italy, Malta, Paris, the Virgin Islands, and one particularly memorable trip to London where he protected his family after getting caught in the middle of the London Poll Tax riots.
In 1995, Paul moved his family to Rochester, NY and worked at Harris Corp as an engineer, where he created the company's very first website. In 1999, he started PLE-Communications LLC with Lisa, creating advanced websites and databases while the internet was still in its infancy, including the first online voter registration lookup database in Monroe County. In 2004, he chose to redirect PLE-Communications' efforts into video security and surveillance to pursue his ultimate goal of protecting our war fighters and our country. He holds two patents on technology-related inventions. He was a relentless hard worker, and lived his life in daily devotion to God. He lost his father at only 8 years old and always strived to make his dad and his family proud of him.
Paul was a very physically strong man, due in part to his younger days playing football and working on farms. He enjoyed spending time outside and working with his hands, whether it was building a piece of furniture for his family, working on cars, doing yard work or just cooking dinner on the grill, then relaxing in HIS La-Z-Boy. He was an avid fan and historian of rock music, and there would often be rock playing and a big glass of iced tea next to him. He loved football, and he was a diehard fan of the Cleveland Browns and THE Ohio State Buckeyes.
In 2019, Paul was diagnosed with FTD, an early-onset dementia that forced him to retire, which was very difficult for a man who had been working since he was 13 years old. After accepting his diagnosis, he became grateful for every day and for God's loving hand in his life. He was thankful to remain comfortable at home with Lisa until his last 48 hours. We are very grateful for the wonderful in-home hospice team and the staff at Hildebrandt House for his comfortable and dignified end-of-life and passing, especially Jeff, Jen, Kim, Joyce, Phil, Cindy, Natasha, Crystal, Ursula and Bill.
We will miss Paul's smile, laughter, giant heart, sharp wit, and endless intellectual curiosity.
Paul is predeceased by his parents, Paul G. Simpson Jr. and Dorothy (Cusick) Simpson, mother-in-law Martha Hoenig, sister-in-law Heidi Hoenig, and brother-in-law and great friend, Eric Hoenig. He is lovingly remembered by his wife Lisa Gruspier-Simpson, son Corey Simpson (Kristy) and granddaughters Amaya, Cailin, Macie, and Elora, daughter Paula Marie Costello (Will) and granddaughter Anabella, stepson Steven Gruspier (Briana) and granddaughter Olivia, stepdaughter Julia Gruspier, stepson Jake Gruspier, sister JaneMarie Bratton (Wes) and niece Bridget and nephew Ben, and sister Kelley Smart (Dan) and nieces Emily and Mary, father-in-law George Hoenig (Sandra), brother-in-law Karl Hoenig (Kristen) and nephew Alex, and sister-in-law Christine Hoenig and niece Erica.
Calling hours will be held Saturday June 10th from 4:00pm - 7:00pm at Paul W. Harris Funeral Home, 570 Kings Highway South, Rochester NY 14617. A Military Honors ceremony will begin there at 7:00pm and all are welcome to attend.
Memorial donations can be made to The Association for Frontotemporal Degeneration (AFTD) at 2700 Horizon Drive, Suite 120, King of Prussia, PA 19406 or online at http://www.theaftd.org/ in memory of Paul Simpson.