info@harrisfuneralhome.com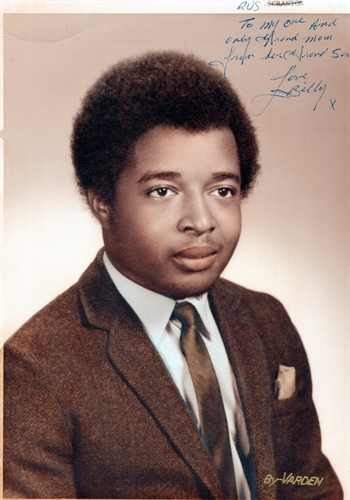 Obituary of William R. Beckley
Please share a memory of William to include in a keepsake book for family and friends.
William "Billy/Bill" Ralph Beckley was born August 15, 1951, the son of Alphonso Beckley and Laura Amiger in Rochester, New York.
Raised on the west side of Rochester, he graduated from West High School.
From infancy Billy began to tap everything with his hands. As he got older, Billy continued to tap the counter and the table. As incentive to get Billy to make good grades, his mother bought him his first 3-piece drum set. It also came with instructions that if he "did anything with it" he could get the rest of the set. Self-taught, Billy's talents were undeniable, and he soon had the remaining pieces to the set. Drummer and singer in a band called "The Entertainers" they played at many of the dances and battle of the band competitions throughout the city. After high school, Billy played as a percussionist for various artists and bands.
Bill's entrepreneurial nature led to the formation of Beckley's Cleaning Service which he owned and operated until the physical demands became too much for Bill to continue. The business offered residential and commercial cleaning services for 21 years.
When Jehovah's Witnesses knocked on his door in the mid-seventies, it was Bill's inquisitive nature that continued the conversation which eventually led to a Bible Study and dedication via baptism soon after. Bill was a faithful servant of Jehovah until his last breath.
Bill was predeceased by his father, Alphonso Beckley and his stepfather Arthur J. Amiger. Left to mourn his passing are his wife of 48 years, Darlene Beckley. Daughters, Yanik (Fred) Scrutchins, Tishara Lovejoy and Erin Beckley. Mother, Laura Amiger and sister, Carren Williams. Grandchildren, Veronica Williams, Scott Williams, Victoria Williams, Olivia Lovejoy, Braden Marcera, and Devon Santos. Nieces, LaShaunda (Ifeanyi) Okafor, Traci (Derek) Jordan, and Camielle (Tonde) Mufudzi. Four great nephews and five great nieces.
Billy will always be remembered for his faith in Jehovah, bringing smiles with his "Dad Jokes", and his genuine love of family, friends, and potato chips.
Services and interment will take place at the convenience of the family. To share a memory or send the family a condolence, please visit www.harrisfuneralhome.com.